Because the portion was crazy shit!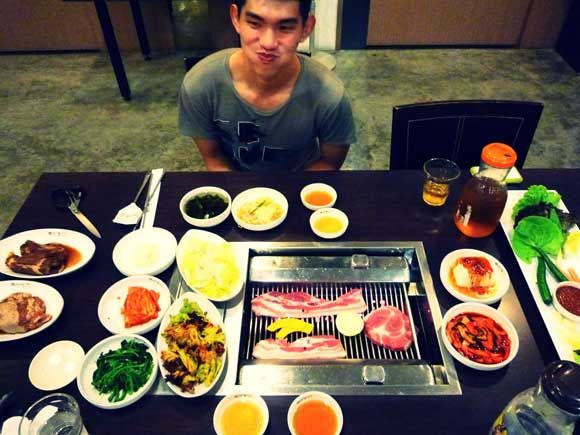 Look at Lion's face. He almost spit out the water in his mouth when he saw the amount of food. I suspect that the staffs were lightning speed trained btw. They loaded everything from their food trolley onto our table within seconds. I was exploding inside my head, "When are they gonna stop unloading?" and before I knew it, they've returned with a second trolley and unloaded some more food.
There was a garden of vegetables; four huge slabs of meat; two bowls of rice, soup and salad; eight refillable side dishes; two jugs of water + tea; two more mains – saba fish + beef ribs soup with tung hoon (not shown in picture).
WHOA. The first time I felt intimidated by food. JU SHIN JUNG, YOU WIN.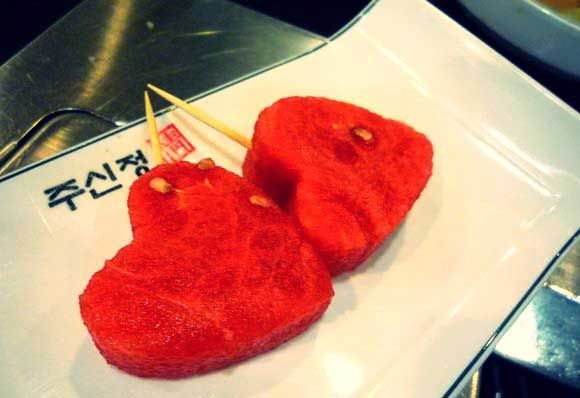 Dessert was a bit disappointing when they told us it was watermelon, but I shall forgive them on the account that they made hearts out of them. Oh, they also had this ginger tea which tasted like perfume water lol.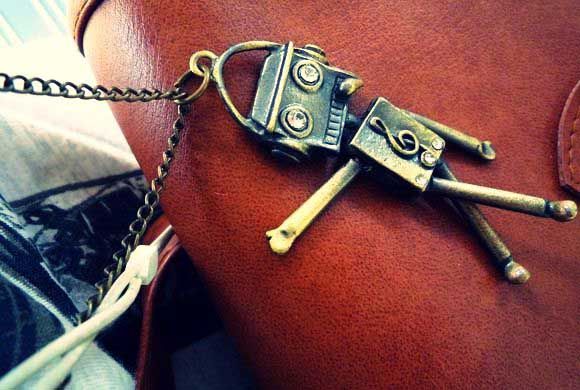 On a random note, I'm loving my robot necklace. It cackles as I walk.
On more random notes, countdown: four days to perfect eyesight! And I'm damn angry that both my bank accounts got $2 deducted 'cos I didn't hit the $500 mark. Last month also like that. $8 can buy me good food you know. Stupid pay better come on time!