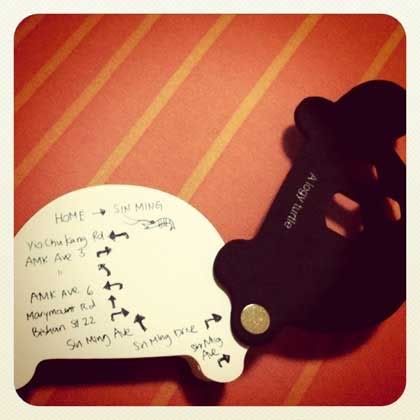 I'm like planning my driving route to the Bishan prawning place tmr at 7am in the morning! (Technically speaking, it's later 'cos it's already 1.35am now.) *YAWNS BIG TIME.
For those who have been following me on Twitter should already know that I've gotten my bike license last week, and bought my own bike, today!
My very first transportation that I've painstakingly earned.
And my very first petrol pump at Woodlands before heading off to my office at Newton. That was like my first lone expressway riding too.
OMGGGGGG. You won't be able to imagine how much this means to me :')
The nine exhausting months of sneaky trips to-and-fro the driving school; the repetition of lessons; the scorching sun; the sickening rain and XXXL mouldy school raincoats; the damn early mornings; the smelly elbow and knee guards; and many many more…. It's all over.
I only broke the news to my parents after I passed. They were so so surprised, but they were not disapproving. In fact, I felt that they were kinda secretly proud of me – of my "independence", and of never asking a single cent from them. But of course, parents being parents, they are very worried for me, and I know some of friends are too.
I promise to ride really really safely. However, I always believe that if you're meant to die, you will. Walk also will die one lor. But CHOY! I love everyone and everyone loves me and I wanna ride long time, so I'll won't speed or do stupid things la. Use Fino to speed also like damn cock lor -.-
P.S. The notebook size for route planning is perfect.
P.S.S. The tortoise shaped notebook will serve as a reminder for me to not go too fast.