Ever since I've started riding, I began to appreciate my loved ones even more. (Not that I don't do previously, but MORE, you know.)
Each time I enter my house carpark, park my scooter, and take off my helmet, I'll grin to myself because I know that I can go home and see my family in one piece (CHOY! But ya).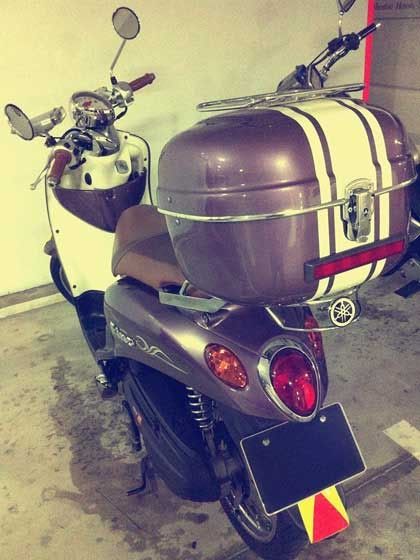 Anyway, I found a box that totally matches my bike colour!
I was so bent on spraying my scooter yellow the moment I bought it, but after seeking a few real life opinions, everyone thinks that I shouldn't do it 'cos the current paint still looks damn new. Alright then, I shall wait till my birthday in 2012 to do it. Something to look forward to!
Now, exactly half of the year has gone past, and Imma do a quick check on my "resolutions" in 2011.
Work towards a senior designer position, or in my fat hopes, junior art director. Screw this. I'm boss now LOL.
Spend more times with my parents. Much improvement as compared to last year, and I see myself spending more time with them when I leave my job next week.
Get an advanced diver cert. DONE.
Get a little lamb LOL. (You'll know what when I do.) It's the thing you see above! Because scooter in Mandarin is known as 小绵羊 (little lamb), and ya, I know it sounds kinda act cute but IDC.
Exercise at least 2 times a week. (Er, failed BIG time. Shall work on it for the next half year.)
Hit target weight. (Same as above.)
Travel alone, maybe? (Maybe? Perhaps? Don't know? Humji.)
Create more personal works. (Did some, but need moreeee!)
Sign up for Yoga lessons. (No money yet lei.)
Save more more more! (I already say no money liao.)
Live for myself. YES! Enjoying every single bit 😀
Yea, that's about it! This was intended to be a short post initially but oh wells. I am so looking forward to Thurs and Fri night 'cos I'm meeting Mighty + Orangees! It's been a while since I last hung out with my friends omg no life.