Remember my call for entries in Kit Kat®'s Yer Big Break! design contest two months ago?
Well, it had been a close fight, but the judges came to a decision and the winner has emerged.
Guess who won? ME ME ME!!!!
Yah, I wished. Anyway, that was my submission for the contest but I didn't get shortlisted. *Runs to one corner and emo. Okay, kidding.
Back to the design contest, we have 10 finalists, and I'll take you through all 10 artworks (provided by Kit Kat®). Forgive me if my two cents' worth get critical, because it's an occupational disease and I can't quite help it.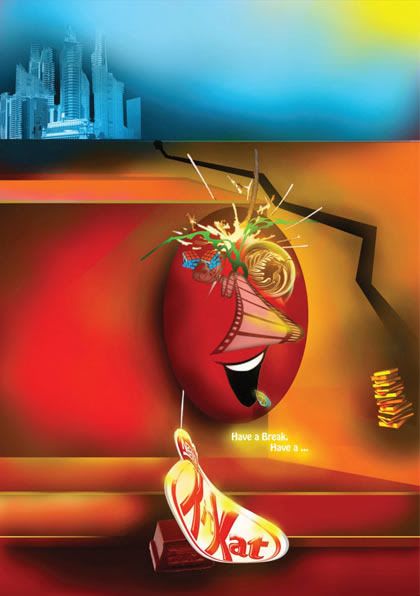 Artist: Abu Suphian.
The office buildings in the blue area portrays stress and probably Monday Tuesday everyday blues, and the sudden breakthrough in warm colours and representation of activities in a happy face brings out the life. However, the overall design feels a little abrupt to me.
Artist: Chuan Chee Sing.
Simply toss back your hair and go with the music. The idea is simple and straightforward, but it is relevant because I believe a lot of us do this very often, even on the MRTs when you dance your soul out in your mind.
Artist: Rukkiye.
Illustrated after the metaphor, "smell the roses", this piece gives off a sense of tranquility and a scent of floral perfume I don't know why. A very feminine piece.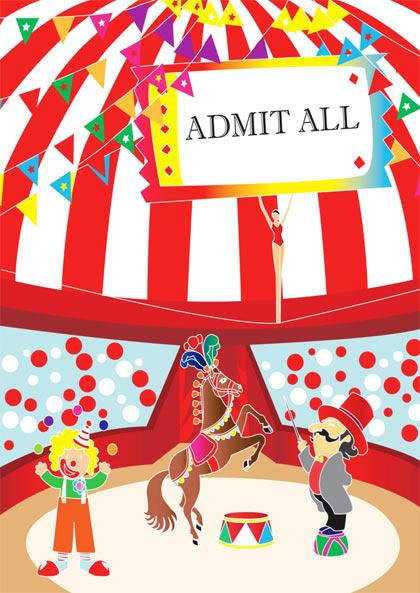 Artist: Chua Ai Ni.
Oh, a mobile circus! I want to jump on board already. The welcoming colours and theme instantly brought me back to my childhood days where I wished I could "fly" like everyone in the circus.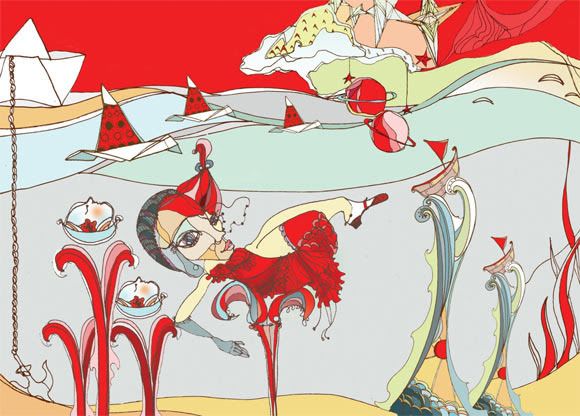 Artist: Julienne Tan.
Abstract looking, and it took me a while to figure out. As explained by Julienne, "With my imagination, I can find new worlds in simple things once again. A puddle becomes an ocean, the sky or an entire astronomical study." Sometimes, it's all in the mind. Change the way you see things and you can discover joy in the stickiest situations.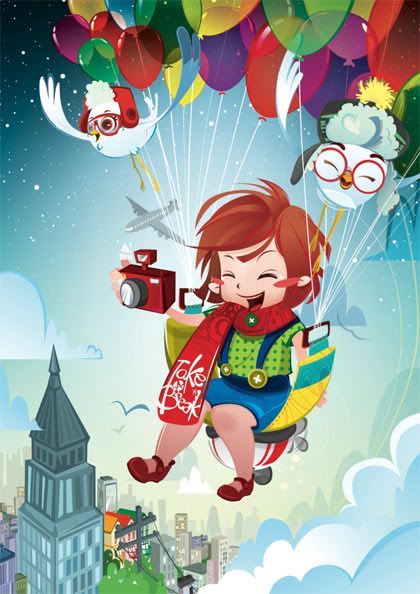 Artist: Joan Chong.
I love the concept of this – lifting off in the skies with balloons, a booster, camera, and literally birds' eye view. Capturing beautiful moments while traveling is definitely THE ultimate break for me.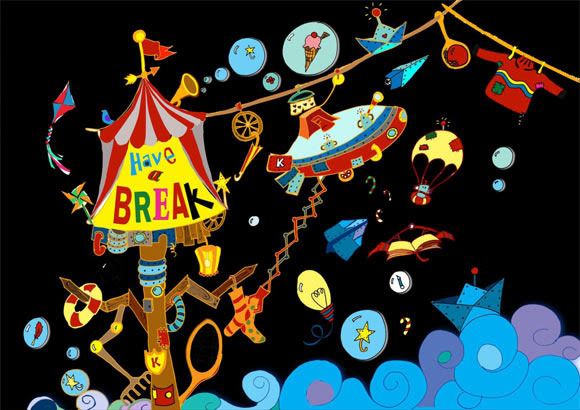 Artist: Lorraine Tan.
I see all things random in a whimsical world, and I think this is what it should be like when one sets his or her mind free, because imagination knows no limits.
Artist: Leon Yeo.
I can't help but notice how "stock vector" looking this artwork is, and the use of a disco ball seems seems typical IMO. Good effort on the use of red though.
Artist: Joanna Leong.
My personal favourite, and yep, she got my vote! Defying gravity from the reality world, Planet Lollywood is a fantasy land filled with chocolate and candies – perfect for a sweet tooth like me.
Artist: Wei Hong.
Last but not least, an illustration done by a dad featuring his son and his favourite animals attempting to snatch his favourite chocolate bar while asleep. Hmmm, sweet dreams or nightmares?
That's all! Now, it's your turn to participate! Simply VOTE to send your favourite artwork to Kit Kat® Stardom, and you might win yourself a $50 Kit Kat® hamper!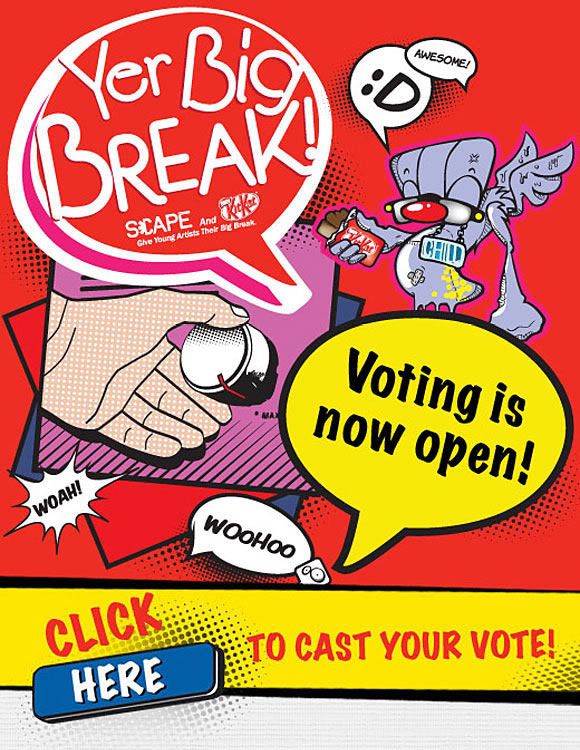 Voting ends 31st July, and official results will be announced on 5th August, so hurry!