Honestly, the movie was more mortal than immortal. And honestly, I don't have a clue about Greek mythology.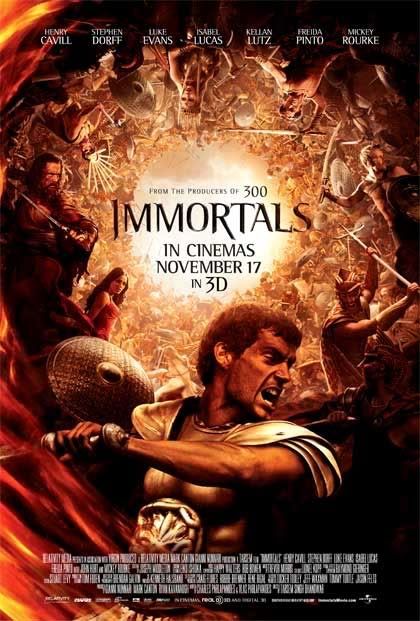 I replied "yes" to the preview simply because boyfriend was into Greek gods and I was into visuals and muscles. As bimbotic as I sound, guess who I bump into at the screening?
Cousin Peimin! She was also there with her boyfriend with probably the same reason, so I presume I'm not alone! :\
Anyway, post-movie discussion led us to conclude that Immortals lack a good storyline but is drop dead gorgeous in visuals. A quick lookup on the Twelve Olympians also reveals the historical inaccuracy of the film, because they only showed us six. I have no problems with that though. Like I said, I was solely in for an action adventure ride and Immortals didn't disappoint. Jam packed with daredevil stunts and state-of-the-art effects enhanced in 3D, there were more than enough justification for the ticket price.
As quoted from the producers of 300 and Immortals, "We're not playing it safe. History is not safe. Mythology is not safe. And we're really not interested in safe."
Thanks to United International Pictures (UIP) and omy once again for the tickets! Check out Immortals' official site now.