I've shifted my Day 1 entry up to make the entire Taiwan trip a continuous series 'cos I finally finished editing the photos so I'm sorta ready to blog now!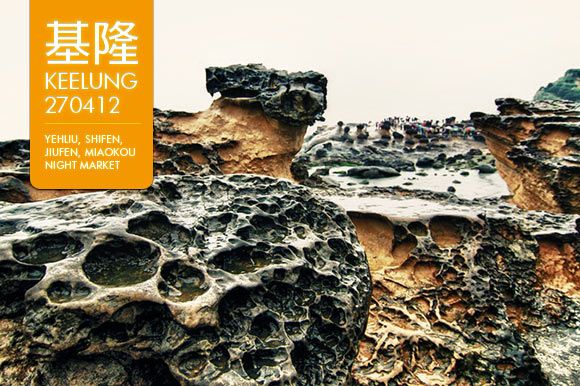 We booked a private taxi (according to online recommendations) for a day to take us to Keelung with the driver acting as our tour guide.

First stop: Yehliu Geopark. Just take a look at the hordes of ah tiongs. Major turnoff.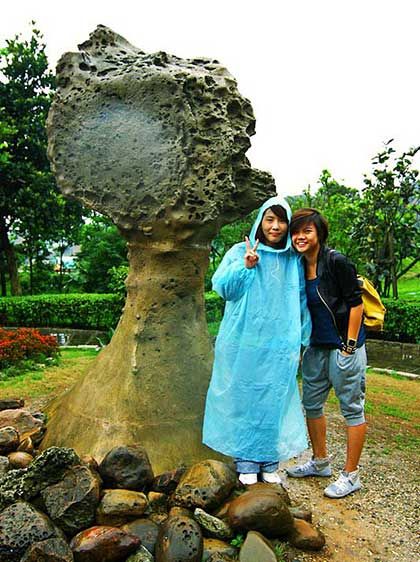 To add on, it was raining very very badly on that day. Can't really tell from the photo but it was! Very sian 'cos it dampened my photography mood.
Here are just some of the not-so-shitty photos.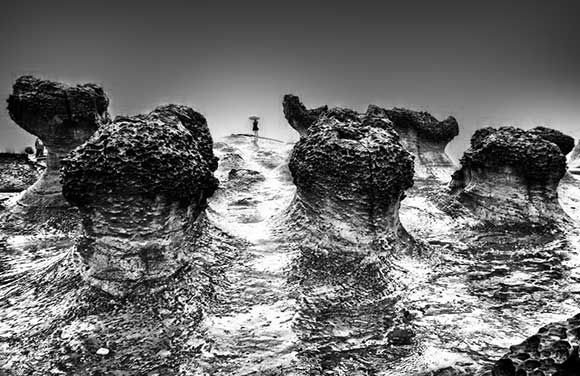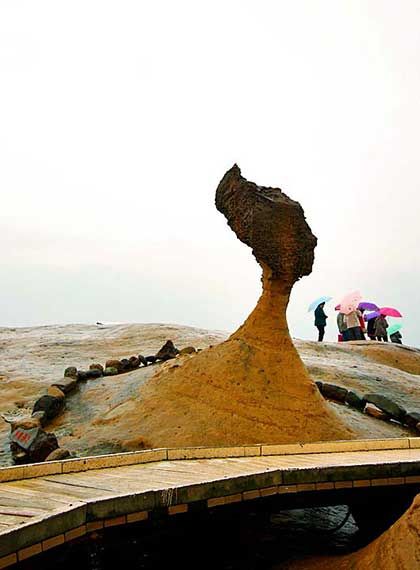 The famous 女王头 (queen's head).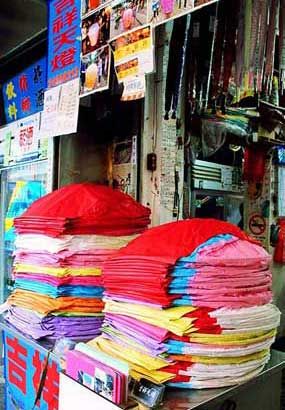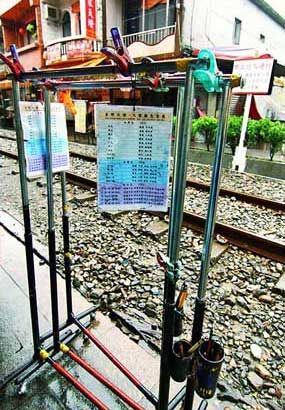 Then we were off to Shifen to put 天灯 (sky lanterns).
Love this shot.
There were even firecrackers at the end of the ignited line, so when the lantern rose to sky level, it started exploding into loud bangs.
Caught the train passing through the open tracks.
I jumped in and photobombed Lynn at the very last minute when she was trying to pose with the fast-moving train. Though she was like *@)!~#($*+ afterwards, we both love the candidness of this photo. PERFECT TIMING PLEASE.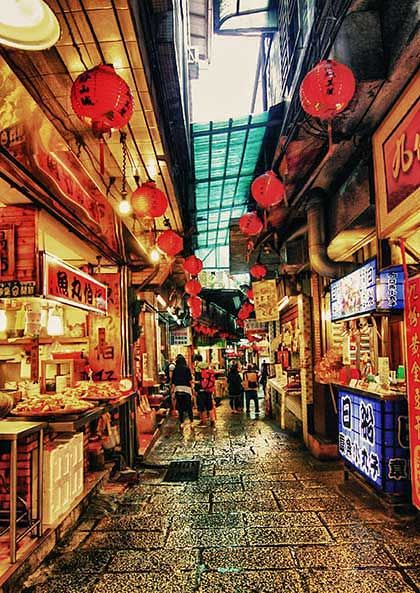 Jiufen Old Street.
Ate many many food as we walked down.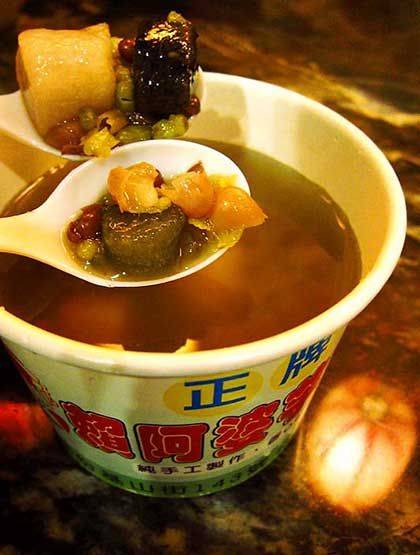 The authentic 賴阿婆芋圆 (Lai Ah Po taro balls) as recommended by our driver. The stall is located somewhere along unit number 151 – 160 if my memory did not fail me.
Breathtaking scenery of mountain and seacoast at the end of Jiufen Old Street.
Golden Waterfall.
There, our driver, Mr. Xu, bumped into his good friend, Mr. Meeky Yang – the most raved about private taxi driver among Singaporeans but we didn't managed to book him 'cos we weren't kiasu enough hahaha.
Nanya rock.
Erosion is just amazing. (Click for larger view.)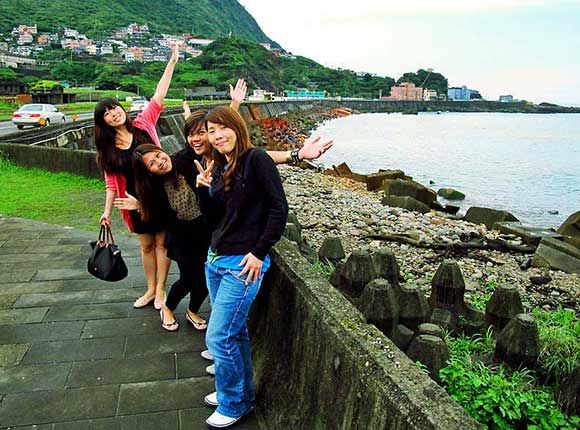 Last stop of the tour was Keelung Miaokou Night Market.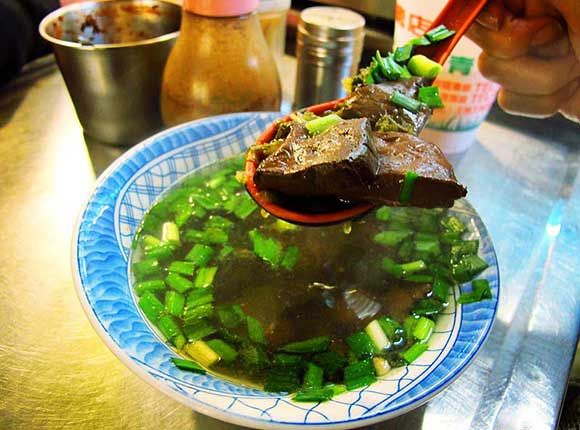 Ash's favourite – pig's blood soup.
Oyster omelette again.
There were tons of street snacks at Miakou Night Market, but we tried to control our intake because we were saving our stomach spaces for..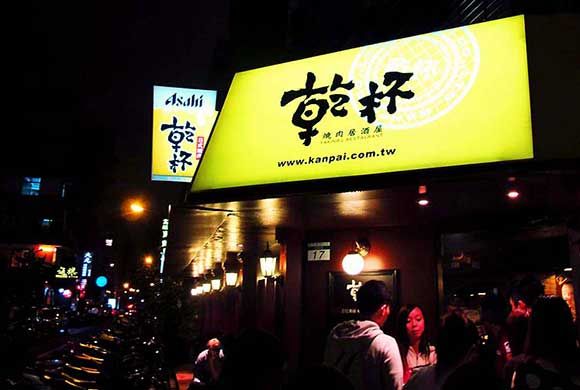 ..the popular 乾杯 (Kanpai) back in Taipei! I've heard so much about it and just couldn't wait to try.
Cheers!
The signature beef tongue that was highly recommended by the waiter. We were very skeptical initially because we had a sucky one at the buffet lunch the previous day, but this turned out soooooooo damnnnnnnn heavenly omigosh!
Next up on the menu was Ash's tongue. HAHAHAH just kidding! Apparently there's this ongoing thing in Kanpai that if two people (regardless of gender) kiss lip to lip for ten seconds and take a picture, they'll get a free plate of BBQ meat.
So this is the pork that Ash and I earned. Yummeh!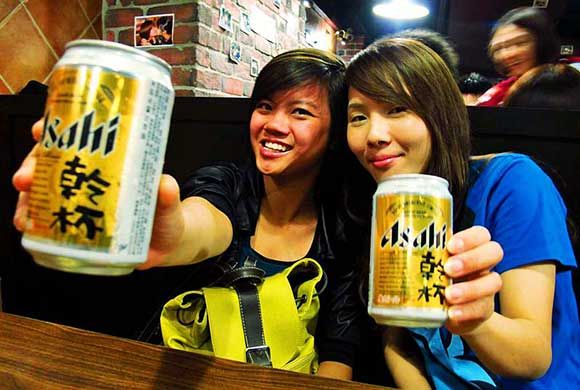 I really enjoyed the superlicious food and lively atmosphere of Kanpai. It felt really true blue Taiwanese and they even have random activities and games when you are dining there. We witnessed a wedding proposal and took part in a beer drinking contest for the fun of it. Their staffs are extremely friendly too!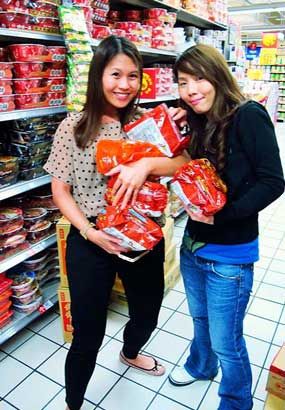 Then, like aunties, we went crazy at the 24-hour Carrefour near our hotel. Cartload of instant noodles ftw!