Wet road from morning rain; CTE; usual traffic jam; second lane; 70km/h; stupid car cut in front of me suddenly; jammed brakes; skidded for the first time; mind went blank; landed sideways on the ground; bike on me; car behind me stopped; driver checked if I was okay; honks; fucked up car in front ran off; pain; blood; bruises; hole in shirt.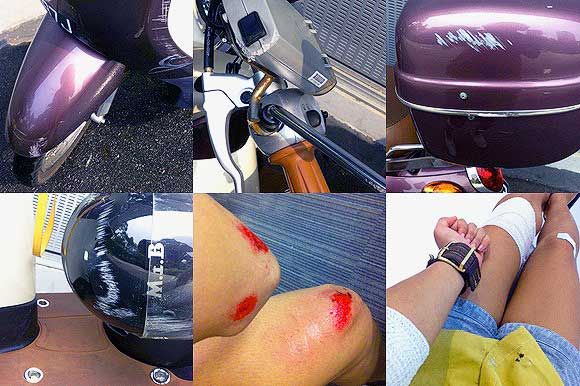 Last night I was just having my anniversary dinner eating yummy sashimi and all. Today I escaped death.
Everything ran through my mind for the split second the "accident" occurred. My family, boyfriend, friends, my future, unfinished things. I closed my eyes and embraced myself for what was going to happen next – a hit, a fly, a blackout, I don't know. But I thank my lucky stars that when I opened my eyes it was still the road scene. It could have been worse. It could have. I could have not be able to write this post now.
But as a matter of fact, I am writing this post to kill time awaiting the visitation of Loti that is taking forever. I was almost gone, but apparently his exam notes are more important. Though I'm physically considered ok, the after shock is still pretty bad. I hate it when I get emotiontally needy and I hate it when I have to go through shit times as if I don't have a boyfriend.