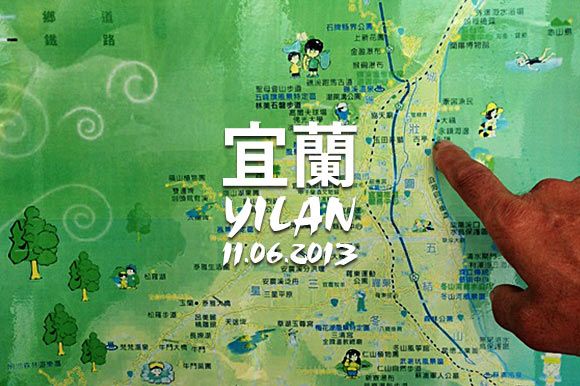 Headed to embrace an experience that I'd been looking forward to – farming at Yilan 宜蘭.
We had an impromptu change of plans for the return journey from Matsu. Ditched our initial 11-hour ferry ride for an hour's domestic flight for twice the ticket price (about NT$2000). BUT THAT'S A LOT OF TIME SAVED YO! We were also considered lucky to able to jet off as the weather at Matsu is really unpredictable. Flights and ferry rides might be cancelled anytime due to fog, current, rain, etc.
Loti was so excited his buck tooth came out hahah.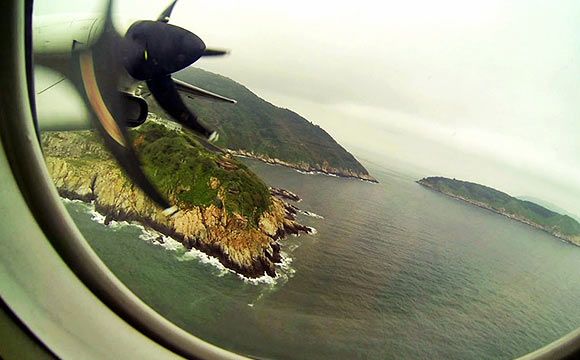 My first time on a propeller plane! Bye beautiful Matsu~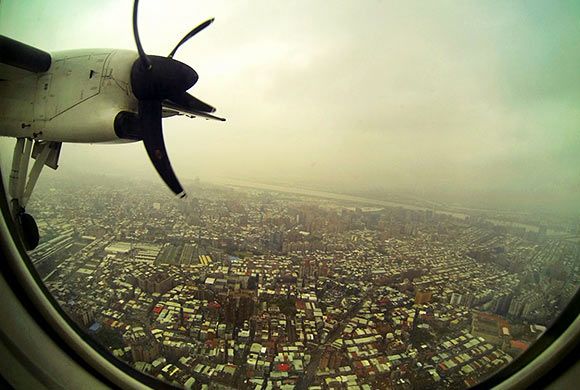 Hello Taipei 台北, again.
We got off at Songshan Airport, and there, super nice Mr. Chong Liang picked us up and drove us to Yilan. Mr. Chong is a farmer whom I had contacted through WWOOF Taiwan to volunteer our services as WWOOFers in exchange for lodging and food. But when I say food, I only expected meals within the farm or house, and not dining out. (I'll go more into that later.)
First up, he brought us a vegetarian buffet.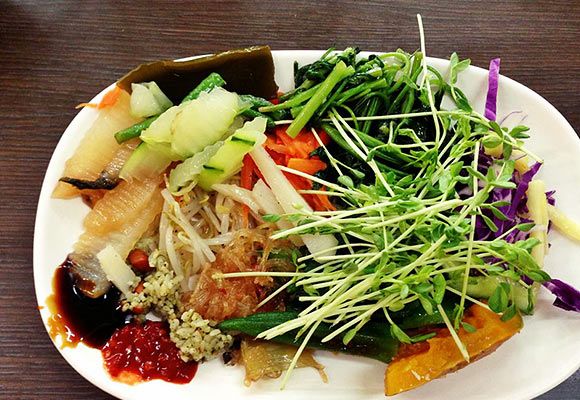 It was cheap and good! So happy to see so many vegetables 'cos I was deprived of them for the past twelve days.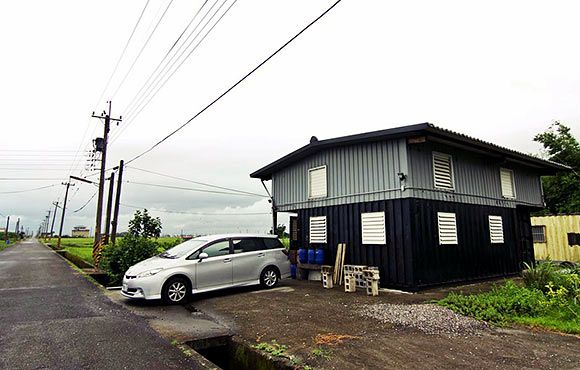 Arrived at Mr. Chong's house / farm. Took a "farmer's nap" before starting work, but we shamelessly overslept. Mad paiseh :\
We started light with an introductory tour of the farm.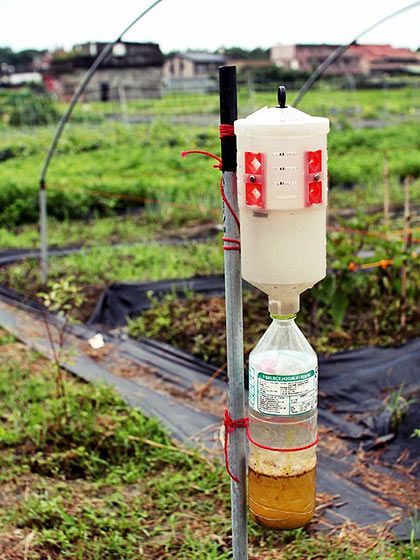 Since it's an organic farm, Mr. Chong insists on not using any pesticides, and these bottles are his way of trapping bugs.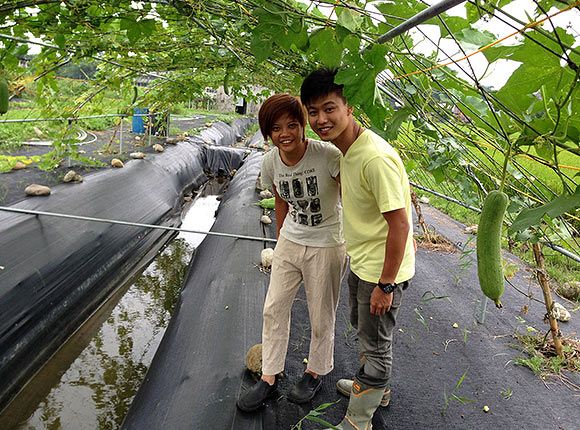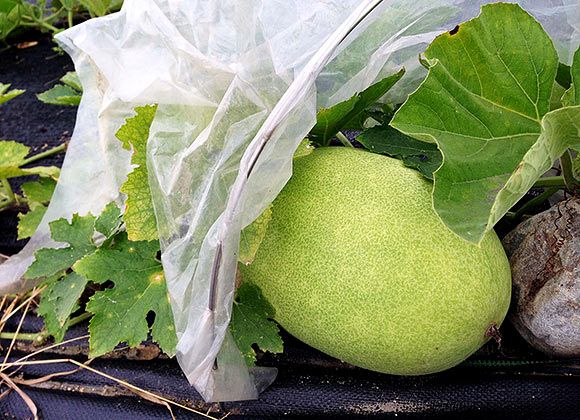 冬瓜.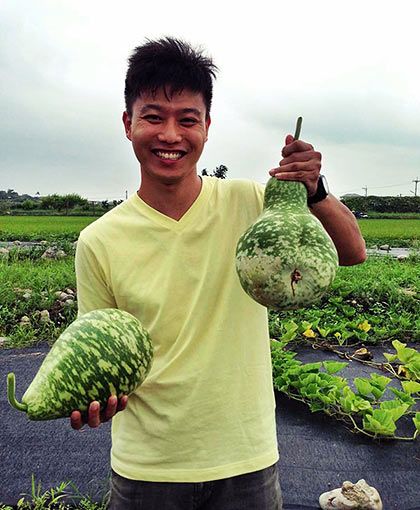 So happy 😀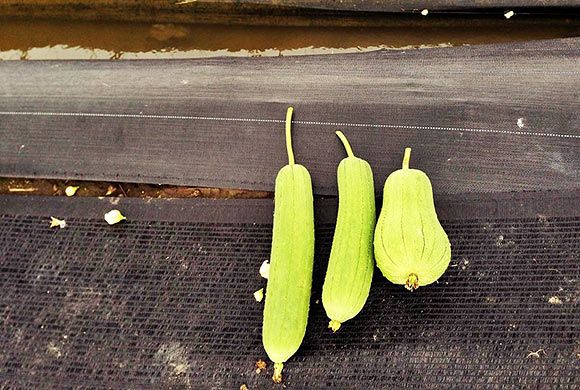 Our first harvest.
Long beans.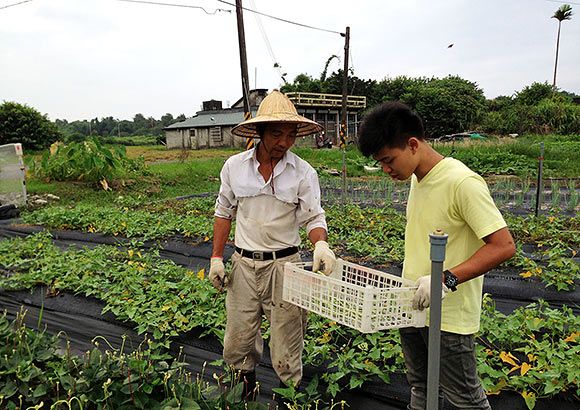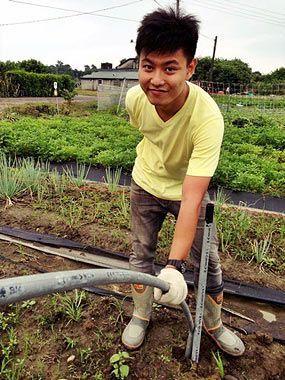 The next few hours were spent transporting some curvy metals from one end to the other, and building up a metal frame(?) to protect the plants from pests.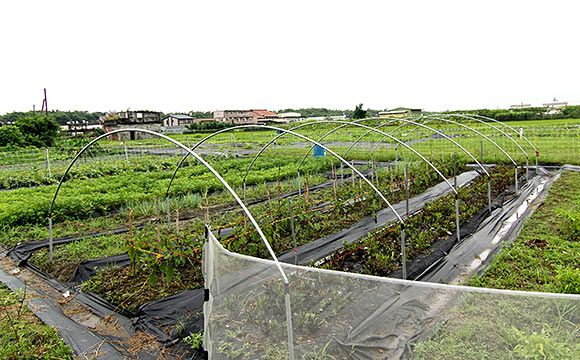 Tadah! Here is it! One frame was completed within two hours with three people's effort, else it'll usually take one to two days for Mr. Chong to do it by himself.
After work, Mr. Chong rewarded us to a hidden hot spring bath in Jiaoxi 礁溪 which only locals know about. It was so traditional and so awesome. He also treated us to a hotpot dinner buffet later.
Yup, back to the providing food. Mr. Chong refused to let us pay for any of the meals at eateries and restaurants he drove us to. His niceness made us so paiseh yet uber thankful at the same time!