The most worrisome day as it was the first day of the Bangkok Shutdown. All our friends and family kept warning us about it; some even asked us to cancel the trip but Loti and I insisted to go ahead.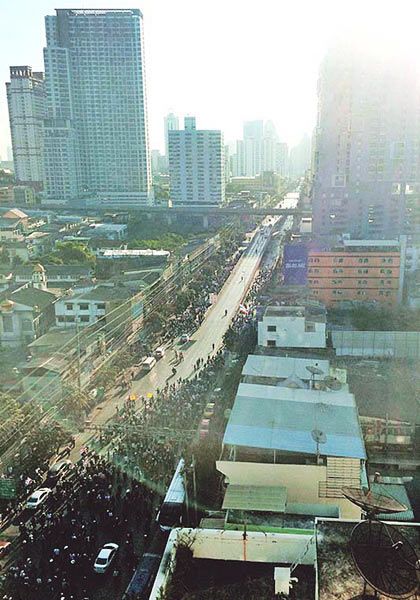 We woke up to shouting and whistle-blowing and this was what we saw from our hotel room.
Got down to the lobby to have a better view but apparently the riot crowds seemed very happy and friendly lei. Suddenly all fears diminished.
We joined in the fun! 😀
Some roads were blocked and some stalls were shut, however, everything carried on as usual. Locals whom couldn't be bothered with politics continued to run businesses; protesters whom were tired halfway stepped out to take coffee / ice-cream breaks before marching on. Witnessing how human it was (and not all the gunshots and deaths as reported by the media), we walked down to Platinum Fashion Mall and Pratunam Market to do our last shopping rounds.
Came evening and it was byebye Bangkok. Other than our bursting luggages and that box of bike's sports rims, the trip (booked out of deprivation) felt too long and unaccomplished.