Half a year had past since the day I set out to give my scooter a facelift to my own design which I really liked. Took me a lot of time and effort to hunt high and low everywhere; not to mention that after my accident, I have to repeat some of the processes again.
I'm gonna share where I did the modifications to my original (metallic dull purple) Yamaha Fino.
Custom brown faux leather IU cover done at Eugene Saddlery for S$15.
New chrome mirrors and original handlebar grips bought in Bangkok.
Headlight cap bought in Bangkok.
Sports rim also bought in Bangkok at 1350 baht (only) for a pair! Hahaha basically I lugged quite a few brand new accessories back which amounted to less than S$100. I then got them replaced at my regular workshop in Singapore for S$50, which was damn worth it.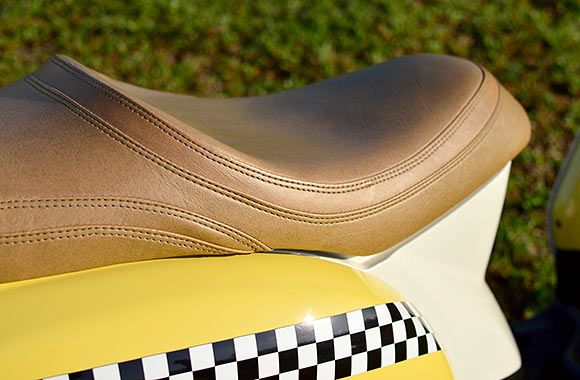 Brown seat from Wing Yap Motor. Though they're known for their overpriced stuffs, this was quite ok – S$90 for a brand new seat compared to S$70 if I send my old one for re-wrapping.
Embossed number plate from Eugene Saddlery at S$25. Did a S$10 one at 219 Motorshop before that but the font too fat so I didn't like it. The checkered mudflap was bought online at Beedspeed for about S$30+ after shipping. Can't find it anywhere in Singapore and I just had to get it for the checkered look that I wanted.
The most major part of the zhnging was of course the paintjob, which costed S$720 at Yeow Motor; I know they're expensive but I'll pay for their quality and service. The decals were done at 219 Motorshop, and their prices anyhow one. On consultation they quoted S$90, and the after the actual job they said S$180. I jumped and managed to get it at S$90 in the end.
I'm very proud of my meh2 and it pains my heart to decide to let it go. I've posted my WTS ad all around, so if you know of anyone there who appreciates her and wants to take over, let me know. Thanks! It's sold now, but stays in my heart :'(