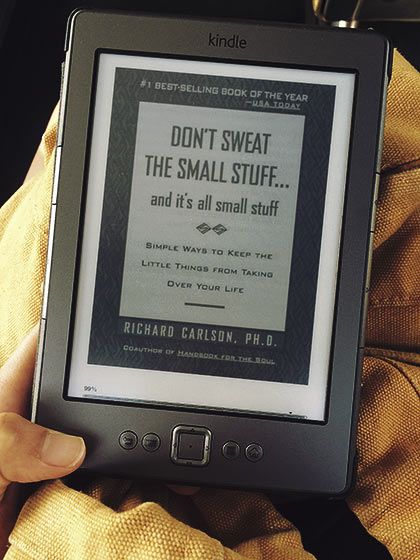 I've just completed my third book and this time, it's a "self-help" book called 'Don't Sweat the Small Stuff' by Richard Carlson. Dry at times, but it made me reflect a lot. Since, I've been trying to take a step back and slowly improve myself as a human.
For self-reminder's sake, here are some massive chunks of text that hit me.
6. Remind Yourself that When You Die, Your "In Basket" Won't Be Empty
So many of us live our lives as if the secret purpose is to somehow get everything done. We stay up late, get up early, avoid having fun, and keep our loved ones waiting. Sadly, I've seen many people who put off their loved ones so long that the loved ones lose interest in maintaining the relationship. I used to do this myself. Often, we convince ourselves that our obsession with our "to do" list is only temporary – that once we get through the list, we'll be calm, relaxed, and happy. But in reality, this rarely happens. As items are checked off, new ones simply replace them.
The nature of your "in basket" is that it's meant to have items to be completed in it – it's not meant to be empty. There will always be phone calls that need to be made, projects to complete, and work to be done. In fact, it can be argued that a full "in basket" is essential for success. It means your time is in demand!
Regardless of who you are or what you do, however, remember that nothing is more important than your own sense of happiness and inner peace and that of your loved ones. If you're obsessed with getting everything done, you'll never have a sense of well being! In reality, almost everything can wait. Very little in our work lives truly falls into the "emergency" category. If you stay focused on your work, it will all get done in due time.
I find that if I remind myself (frequently) that the purpose of life isn't to get it all done but to enjoy each step along the way and live a life filled with love, it's far easier for me to control my obsession with completing my list of things to do. Remember, when you die, there will still be unfinished business to take care of. And you know what? Someone else will do it for you! Don't waste any more precious moments of your life regretting the inevitable.
---
10. Learn to Live in the Present Moment
To a large degree, the measure of our peace of mind is determined by how much we are able to live in the present moment.
Irrespective of what happened yesterday or last year, and what may or may not happen tomorrow, the present moment is where you are – always!
Without question, many of us have mastered the neurotic art of spending much of our lives worrying about a variety of things – all at once. We allow past problems and future concerns to dominate our present moments, so much so that we end up anxious, frustrated, depressed, and hopeless. On the flip side, we also postpone our gratification, our stated priorities, and our happiness, often convincing ourselves that "someday" will be better than today. Unfortunately, the same mental dynamics that tell us to look toward the future will only repeat themselves so that "someday" never actually arrives. John Lennon once said, "Life is what's happening while we're busy making other plans."
When we're busy making "other plans." our children are busy growing up, the people we love are moving away and dying, our bodies are getting out of shape, and our dreams are slipping away. In short, we miss out on life.
Many people live as if life were a dress rehearsal for some later date. It isn't. In fact, no one has a guarantee that he or she will be here tomorrow. Now is the only time we have, and the only time that we have any control over. When our attention is in the present moment, we push fear from our minds. Fear is the concern over events that might happen in the future – we won't have enough money, our children will get into trouble, we will get old and die, whatever.
To combat fear, the best strategy is to learn to bring your attention back to the present. Mark Twain said, "I have been through some terrible things in my life, some of which actually happened." I don't think I can say it any better. Practice keeping your attention on the here and now. Your efforts will pay great dividends.
---
40. When in Doubt about Whose Turn It Is to Take Out the Trash Go Ahead and Take It Out
If we're not careful, it's easy to become resentful about all the responsibilities of daily living. Once, in a very low mood, I figured out that on an average day, I do over 1,000 different things. Of course, when I'm in a better mood, that number is significantly lower.
As I think about it, it's astounding to me how easy it is for me to remember all the chores that I do, as well as all the other responsibilities that I take care of. But, at the same time, it's easy for me to forget all the things that my wife does on a daily basis. How convenient!
It's really difficult to become a contented person if you're keeping score of all you do. Keeping track only discourages you by cluttering your mind with who's doing what, who's doing more, and so forth. If you want to know the truth about it, this is the epitome of "small stuff." it will bring you far more joy to your life to know that you have done your part and someone else in your family has one less thing to do, than it will to worry and fret over whose turn it is to take out the trash.
The strongest argument against this strategy is the concern that you'll be taken advantage of. This mistake is similar to believing it's important that you're right. Most of the time it's not important that you're right, and neither is it important if you take the trash out a few more times than your spouse or housemate. Making things like garbage less relevant in your life will undoubtedly free up more time and energy for truly important things.
---
41. Avoid Weatherproofing
The idea of weatherproofing as it pertains to peaceful living is a metaphor to explain one of our most neurotic, ungrateful tendencies. It comes from a friend of mind, Dr. George Pransky.
Just as we can weatherproof a home for the winter by looking for cracks, leaks, and imperfections, we can also weatherproof our relationships, even our lives, by doing the very same thing. Essentially, weatherproofing means that you are on the careful lookout for what needs to be fixed or repaired. It's finding the cracks and flaws of life, and either trying to fix them, or at least point them out to others. Not only does this tendency alienate you from other people, it makes you feel bad, too. it encourages you to think about what's wrong with everything and everyone – what you don't like. So, rather than appreciating our relationships and our lives, weatherproofing encourages us to end up thinking that life isn't all it's cracked up to be. Nothing is ever good enough the way it is.
In our relationships, weatherproofing typically plays itself like this. You meet someone and all is well. You are attracted to his or her appearance, personality intellect, sense of humor, or some combination of these traits. Initially, you not only approve of your differences with this person, you actually appreciate them. You might even be attracted to the person, in part because of how different you are. You have different opinions, preferences, tastes, and priorities.
After a while, however, you begin to notice little quirks about your new partner (or friend, teacher, whoever), that you feel could be improved upon. You bring it to their attention. You might say, "You know, you sure have a tendency to be late." Or, "I've noticed you don't read very much." The point is, you've begun what inevitably turns into a way of life – looking for and thinking about what you don't like about someone, or something that isn't quite right.
Obviously, an occasional comment, constructive criticism, or helpful guidance isn't cause for alarm. I have to say, however, that in the course of working with hundreds of couples over the years, I've met very few people who didn't feel that they were weatherproofed at times by their partner. Occasional harmless comments have an insidious tendency to become a way of looking at life.
When you are weatherproofing another human being, it says nothing about them – but it does define you as someone who needs to be critical.
Whether you have a tendency to weatherproof your relationships, certain aspects of your life, or both, what you need to do is write off weatherproofing as a bad idea. As the habit creeps into your thinking, catch yourself and seal your lips. The less often you weatherproof your partner or your friends, the more you'll notice how super your life really is.
---
49. Resist the Urge to Criticize
When we judge or criticize another person, it says nothing about that person; it merely says something about our own need to be critical.
If you attend a gathering and listen to all the criticism that is typically levied against others, and then go home and consider how much good all that criticism actually does to make our world a better place, you'll probably come up with the same answer that I do: Zero! It does no good. But that's not all. Being critical not only solves nothing; it contributes to the anger and distrust in our world. After all, none of us likes to be criticized. Our reaction to criticism is usually to become defensive and/or withdrawn. A person who feels attacked is likely to do one of two things: he will either retreat in fear or shame, or he will attack or lash out in anger. How many times have you criticized someone and had them respond by saying, "Thank you so much for pointing out my flaws. I really appreciate it"?
Criticism, like swearing, is actually nothing more than a bad habit. It's something we get used to doing; we're familiar with how it feels. It keeps us busy and gives us something to talk about.
If, however, you take a moment to observe how you actually feel immediately after you criticize someone, you'll notice that you will feel a little deflated and ashamed, almost like you're the one who has been attacked. The reason this is true is that when we criticize, it's a statement to the world and to ourselves, "I have a need to be critical." This isn't something we are usually proud to admit.
The solution is to catch yourself in the act of being critical. Notice how often you do it and how bad it makes you feel. What I like to do is turn it into a game. I still catch myself being critical, but as my need to criticize arises, I try to remember to say to myself, "There I go again." Hopefully, more often than not, I can turn my criticism into tolerance and respect.
---
55. Breathe Before You Speak
This simple strategy has had remarkable results for virtually everyone I know who has tried it. The almost immediate results include increased patience, added perspective, and, as a side benefit, more gratitude and respect from others.
The strategy itself is remarkably simple. It involves nothing more than pausing – breathing – after the person to whom you are speaking is finished. At first, the time gap between your voices may seem like an eternity – but in reality, it amounts to only a fraction of a second of actual time. You will get used to the power and beauty of breathing, and you will come to appreciate it as well. It will bring you closer to, and earn you more respect from, virtually everyone you come in contact with. You'll find that being listened to is one of the rarest and most treasured gifts you can offer. All it takes is intention and practice.
If you observe the conversations around you, you'll notice that, often, what many of us do is simply wait for our chance to speak. We're not really listening to the other person, but simply waiting for an opening to express our own view. We often complete other people's sentences, or say things like, "Yeah, yeah," or "I know," very rapidly, urging them to hurry up so that we can have our turn. It seems that talking to one another is sometimes more like sparring back and forth like fighters or Ping-Pong balls than it is enjoying or learning from the conversation.
This harried form of communication encourages us to criticize points of view, overreact, misinterpret meaning, impute false motives, and form opinions, all before our fellow communicator is even finished speaking. No wonder we are so often annoyed, bothered, and irritated with one another. Sometimes, with our poor listening skills, it's a miracle that we have any friends at all!
I spent most of my life waiting for my turn to speak. If you're at all like me, you'll be pleasantly amazed at the softer reactions and looks of surprise as you let others completely finish their thought before you begin yours. Often, you will be allowing someone to feel listened to for the very first time. You will sense a feeling of relief coming fromthe person to whom you are speaking – and a much calmer, less rushed feeling between the two of you. No need to worry that you won't get your turn to speak – you will. In fact, it will be more rewarding to speak because the person you are speaking to will pick up on your respect and patience and will begin to do the same.
---
86. The Next Time You Find Yourself in an Argument, Rather than Defend Your Position, See if You Can See the Other Point of View First
It's interesting to consider that when you disagree with someone, the person you are disagreeing with is every bit as certain of his or her position as you are of yours. Yet we always take sides – ours! This is our ego's way of refusing to learn anything new. It's also a habit that creates a lot of unnecessary stress.
The first time I consciously tried the strategy of seeing the other point of view first, I found out something truly wonderful: It didn't hurt, and it brought me closer to the person with whom I was disagreeing.
Suppose a friend says to you, "Liberals [or conservatives] are the major cause of our social problems." Rather than automatically defending your own position (whatever it is), see if you can learn something new. Say to your friend, "Tell me why you think that's true." Don't say this with a hidden agenda or in preparation to defend or prove your position, but simply to learn a different point of view. Don't try to correct or make your friend see how he is wrong. Let your friend have the satisfaction of being right. Practice being a good listener.
Contrary to popular belief, this attitude does not make you weak. It doesn't mean you aren't passionate about your beliefs, or that you're admitting that you're wrong. You're simply trying to see another point of view – you're seeking first to understand. It takes enormous energy to constantly prove a rigid position. On the other hand, it takes no energy to allow someone else to be right. In fact, it's outright energizing.
When you understand other positions and points of view, several wonderful things begin to happen. First, you often learn something new. You expand your horizons. Second, when the person you are talking to feels listened to, he or she will appreciate and respect you far more than when you habitually jump in with your own position. Jumping in only makes him or her more determined and defensive. Almost always, if you are softer, the other person will be softer too. It might not happen right away, but in time, it will. By seeking first to understand, you are putting your love and respect for the person to whom you are speaking above your need to be right. You are practicing a form of unconditional love. A side benefit is that the person you are speaking to may even listen to your point of view. While there is no guarantee that he will listen to you, one thing is guaranteed: If you don't listen, he or she won't. By being the first person to reach out and listen, you stop the spiral of stubbornness.
---
89. If Someone Throws You the Ball, You Don't Have to Catch It
My best friend, Benjamin Shield, taught me this valuable lesson. Often our inner struggles come from our tendency to jump on board someone else's problem; someone throws you a concern and you assume you must
catch it, and respond. For example, suppose you're really busy when a friend calls in a frantic tone and says, "My mother is driving me crazy. What should I do?" Rather than saying, "I'm really sorry but I don't know what to suggest," you automatically catch the ball and try to solve the problem. Then later, you feel stressed or resentful that you are behind schedule and that everyone seems to be making demands on you. It's easy to lose sight of your willing participation in the dramas of your own life.
Remembering that you don't have to catch the ball is a very effective way to reduce the stress in your life. When your friend calls, you can drop the ball, meaning you don't have to participate simply because he or she is attempting to lure you in. If you don't take the bait, the person will probably call someone else to see if they will become involved.
This doesn't mean you never catch the ball, only that it's your choice to do so. Neither does this mean that you don't care about your friend, or that you're crass or unhelpful. Developing a more tranquil outlook on life requires that we know our own limits and that we take responsibility for our part in the process. Most of us get balls thrown at us many times each day at work, from our children, friends, neighbors, salespeople, even strangers. If I caught all the balls thrown in my direction, I would certainly go crazy – and I suspect that you would too! The key is to know when we're catching another ball so that we won't feet victimized, resentful, or overwhelmed.
Even something terribly simple like answering your phone when you're really too busy to talk is a form of catching the ball. By answering the phone, you are willingly taking part in an interaction that you may not have the time, energy, or mind-set for at the present time. By simply not answering the phone, you are taking responsibility for your own peace of mind. The same idea applies to being insulted or criticized. When someone throws an idea or comment in your direction, you can catch it and feel hurt, or you can drop it and go on with your day.
The idea of "not catching the ball" simply because it's thrown to you is a powerful tool to explore. I hope you'll experiment with this one. You may find that you catch the ball a lot more than you think you do.
---
90. One More Passing Show
This is a strategy that I have recently adopted into my own life. It's a subtle reminder that everything – the good and bad, pleasure and pain, approval and disapproval, achievements and mistakes, fame and shame – all come and go. Everything has a beginning and an ending and that's the way it's supposed to be.
Every experience you have ever had is over. Every thought you've ever had, started and finished. Every emotion and mood you've experienced has been replaced by another. You've been happy, sad, jealous, depressed, angry, in love, shamed, proud, and every other conceivable human feeling. Where did they all go? The answer is, no one really knows. All we know is that, eventually, everything disappears into nothingness. Welcoming this truth into your life is the beginning of a liberating adventure.
Our disappointment comes about in essentially two ways. When we're experiencing pleasure we want it to last forever. It never does. Or, when we're experiencing pain, we want it to go away now. It usually doesn't. Unhappiness is the result of struggling against the natural flow of experience.
It's enormously helpful to experiment with the awareness that life is just one thing after another. One present moment followed by another present moment. When something is happening that we enjoy, know that while it's wonderful to experience the happiness it brings, it will eventually be replaced by something else, a different type of moment. If that's okay with you, you'll feel peace even when the moment changes. And if you're experiencing some type of pain or displeasure, know that this too shall pass. Keeping this awareness close to your heart is a wonderful way to maintain your perspective, even in the face of adversity. It's not always easy, but it is usually helpful.
---
92. Realize the Power of Your Own Thoughts
If you were to become aware of only one mental dynamic, the most important one to know about would be the relationship between your thinking and the way you feel.
It's important to realize that you are constantly thinking. Don't be fooled into believing that you are already aware of this fact! Think, for a moment, about your breathing. Until this moment, when you are reading this sentence, you had certainly lost sight of the fact that you were doing it. The truth is, unless you are out of breath, you simply forget that it's occurring.
Thinking works in the same way. Because you're always doing it, it's easy to forget that it's happening, and it becomes invisible to you. Unlike breathing, however, forgetting that you are thinking can cause some serious problems in your life, such as unhappiness, anger, inner conflicts, and stress. The reason this is true is that your thinking will always come back to you as a feeling; there is a point-to-point relationship.
Try getting angry without first having angry thoughts! Okay, now try feeling stressed out without first having stressful thoughts – or sad without sad thoughts – or jealous without thoughts of jealousy. You can't do it – it's impossible. The truth is, in order to experience a feeling, you must first have a thought that produces that feeling.
Unhappiness doesn't and can't exist on its own. Unhappiness is the feeling that accompanies negative thinking about your life. In the absence of that thinking, the unhappiness, or stress, or jealousy, can't exist. There is nothing to hold your negative feelings in place other than your own thinking. The next time you're feeling upset, notice your thinking – it will be negative. Remind yourself that it's your thinking that is negative, not your life. This simple awareness will be the first step in putting you back on the path toward happiness. It takes practice, but you can get to the point where you treat your negative thoughts in much the same way you would treat flies at a picnic: You shoo them away and get on with your day.
---
93. Give Up on the Idea that "More Is Better"
We live in the most affluent culture the world has ever seen. Estimates are that although we have only 6 percent of the world's population in America, we use almost half of the natural resources. It seems to me that if more were actually better, we would live in the happiest, most satisfied culture of all time. But we don't. Not even close. In fact, we live in one of the most dissatisfied cultures on record.
It's not that having a lot of things is bad, wrong, or harmful in and of itself, only that the desire to have more and more and more is insatiable. As long as you think more is better, you'll never be satisfied.
As soon as we get something, or achieve something, most of us simply go on to the next thing – immediately. This squelches our appreciation for life and for our many blessings. I know a man, for example, who bought a beautiful home in a nice area. He was happy until the day after he moved in. Then the thrill was gone. Immediately, he wished he'd bought a bigger, nicer home. His "more is better" thinking wouldn't allow him to enjoy his new home, even for a day. Sadly, he is not unique. To varying degrees, we're all like that. It's gotten to the point that when the Dalai Lama won the Nobel Prize for Peace in 1989, one of the first questions he received from a reporter was "What's next?" It seems that whatever we do – buy a home or a car, eat a meal, find a partner, purchase some clothes, even win a prestigious honor it's never enough.
The trick in overcoming this insidious tendency is to convince yourself that more isn't better and that the problem doesn't lie in what you don't have, but in the longing for more.
Learning to be satisfied doesn't mean you can't, don't, or shouldn't ever want more than you have, only that your happiness isn't contingent on it. You can learn to be happy with what you have by becoming more present-moment oriented, by not focusing so much on what you want. As thoughts of what would make your life better enter your mind, gently remind yourself that, even if you got what you think you want, you wouldn't be one bit more satisfied, because the same mind-set that wants more now would want more then.
Develop a new appreciation for the blessings you already enjoy. See your life freshly, as if for the first time. As you develop this new awareness, you'll find that as new possessions or accomplishments enter your life, your level of appreciation will be heightened.
An excellent measure of happiness is the differential between what you have and what you want. You can spend your lifetime wanting more, always chasing happiness – or you can simply decide to consciously want less. This latter strategy is infinitely easier and more fulfilling.