A short getaway to a nearby Indonesia because Jo and I can't afford to take too many days off together – the woes of having a girlfriend working in the exact same department in the same company. But we shan't complain, and anyway it's our first time travelling one-to-one with each other, and we might not be cut out as travel buddies (as according to her T_T hahaha).
Being budget travellers, we tried out the ley chey route of flying from Johor Bahru.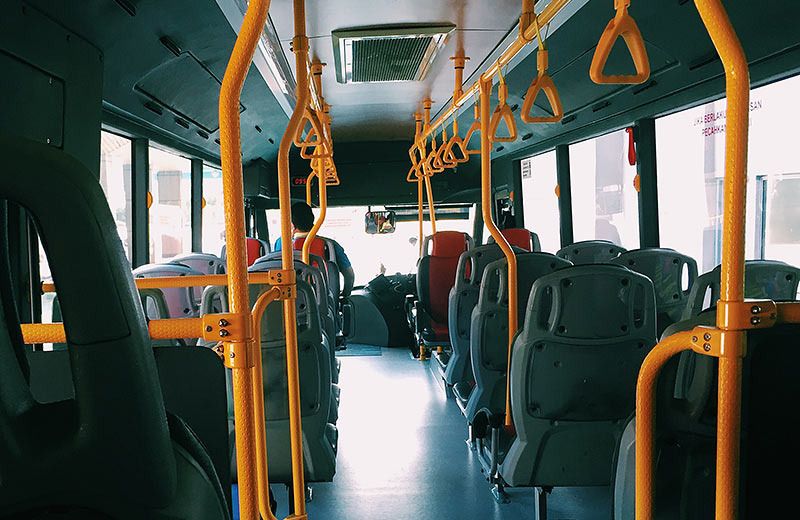 Free for AirAsia passengers, we took the Causeway Link (bus) to JB checkpoint, then another shuttle bus to their airport, which was about 1 hour ride in total excluding the transferring and waiting etc.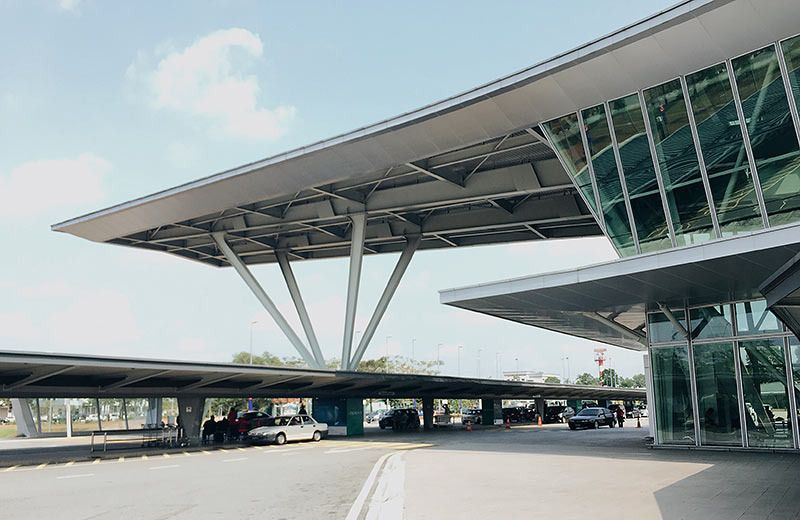 Senai International Airport – not as shabby as I thought. In fact, it was pretty new.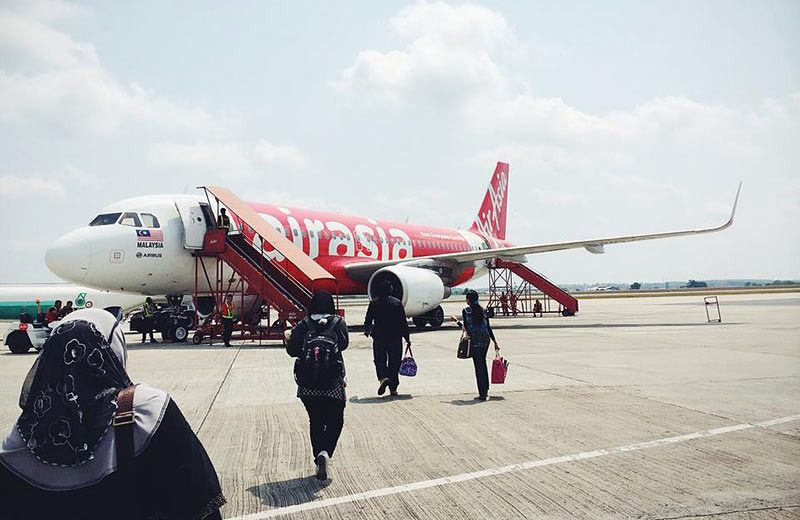 Upon reaching Yogyakarta (which is pronounced as Jogjakarta and keeps getting mistaken as Jakarta), we decided to fuck the taxis and whacked their local bus after a very brief research. Each ticket only costed 3600 rupiah.
This is their very cute bus stop. Surprisingly all the locals were very friendly and helpful. As long as you tell them where you wanna alight, the bus stop person will let the bus person know, and you'll alight correctly.
The only problem was that we self-assumed where we should alight without showing them our homestay address. We also had no mobile data nor Google Maps with us.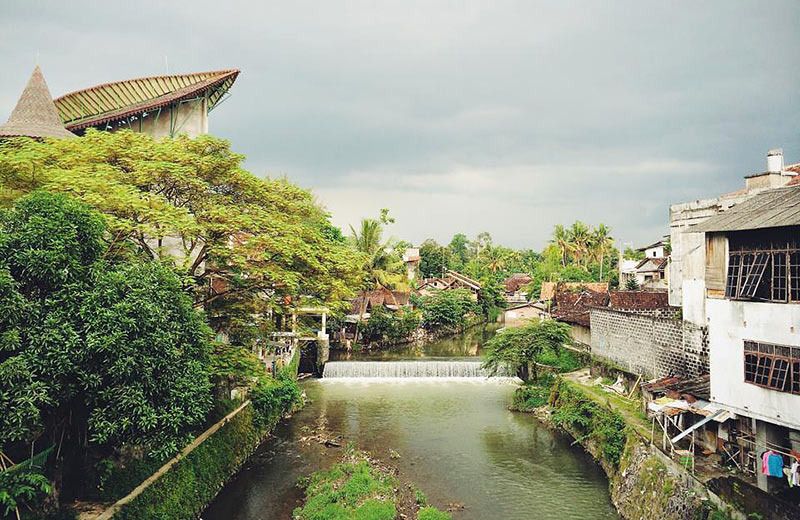 Hoseh, obviously we got lost.
Asked a few locals along the way and continued walking.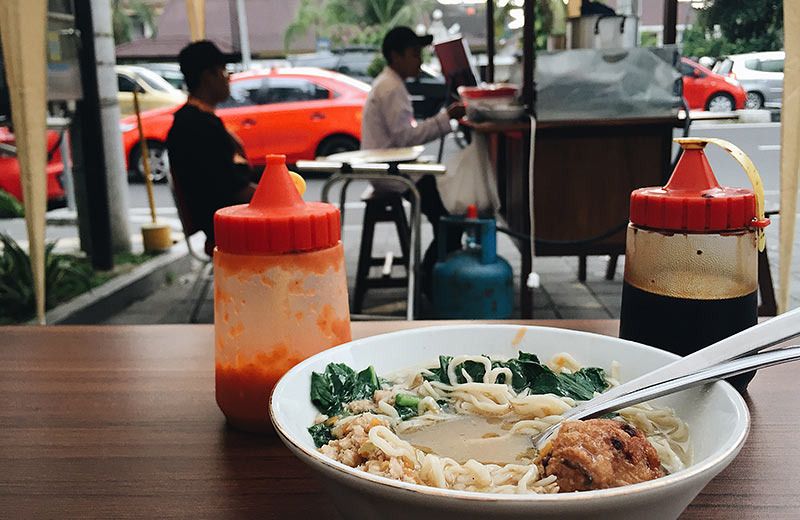 We got really hungry so we stopped by for lunch at an atas roadside stall owned by a hotel.
I tried my luck to ask for the hotel's Wifi password, and jeng! They gave it to us. We quickerly launched Google Maps and navigated to our homestay. Thank goodness we were only a few more hundred metres away.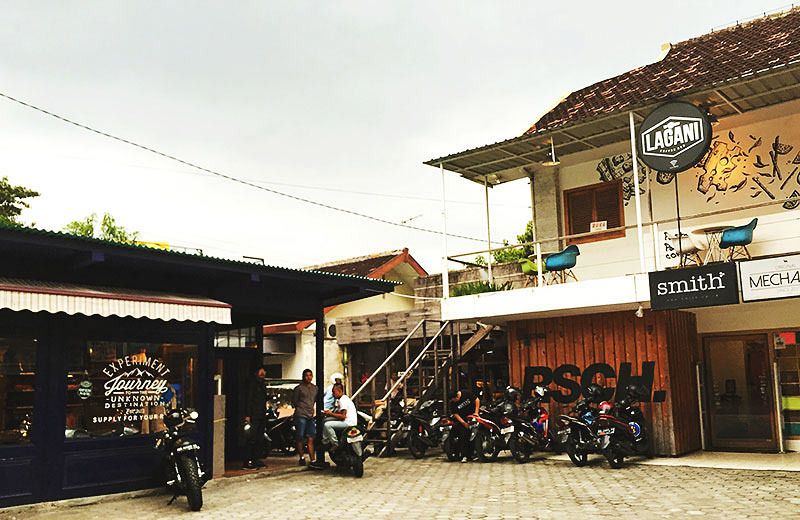 Passed by lots of hipster shops and we self-named the road Jalan Hipster.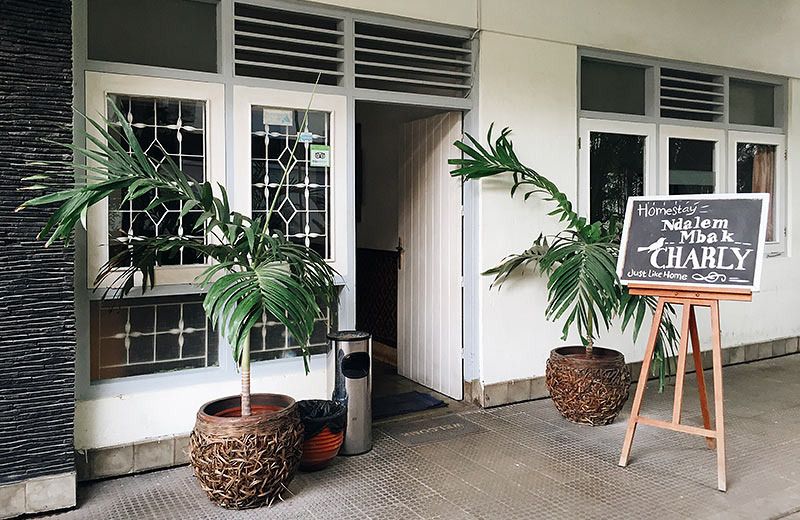 Finally at Ndalem Mbak Charly. It was like in an small alley which we'll confirm miss without the map.
Minutes after stepping in to the homestay, it started pouring heavily. Damn heng. Settled down and nua before heading out.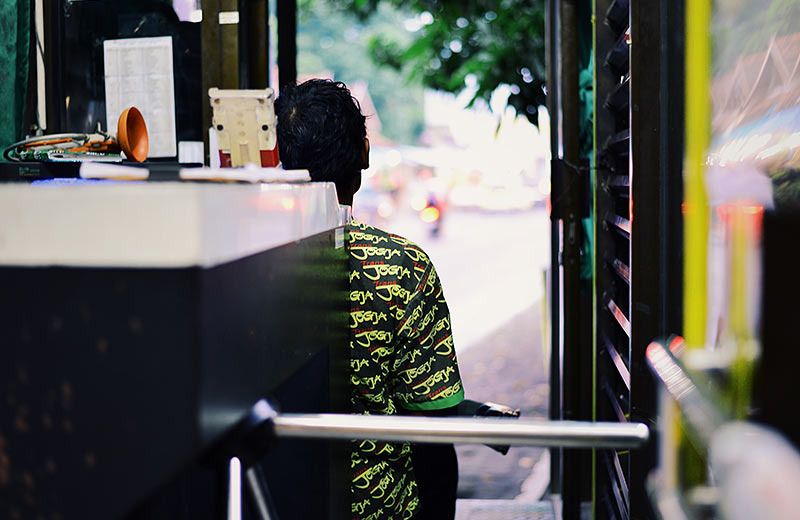 Back at a bus stop.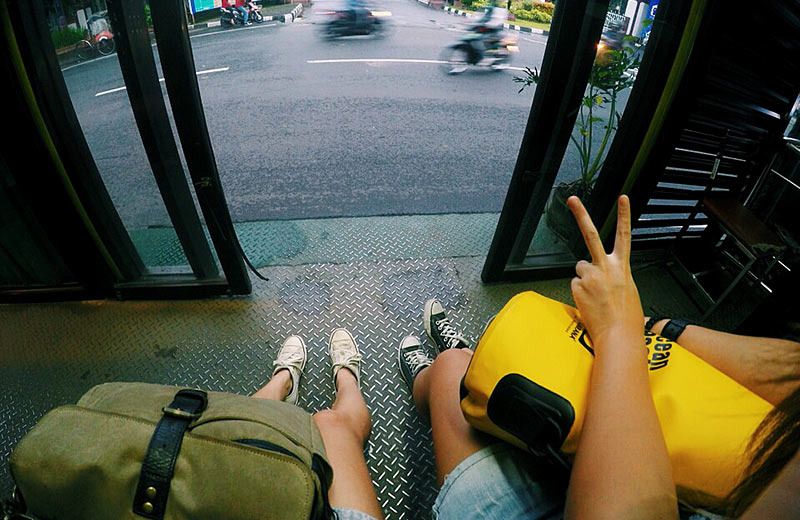 This time we managed to find one that's nearer to our homestay.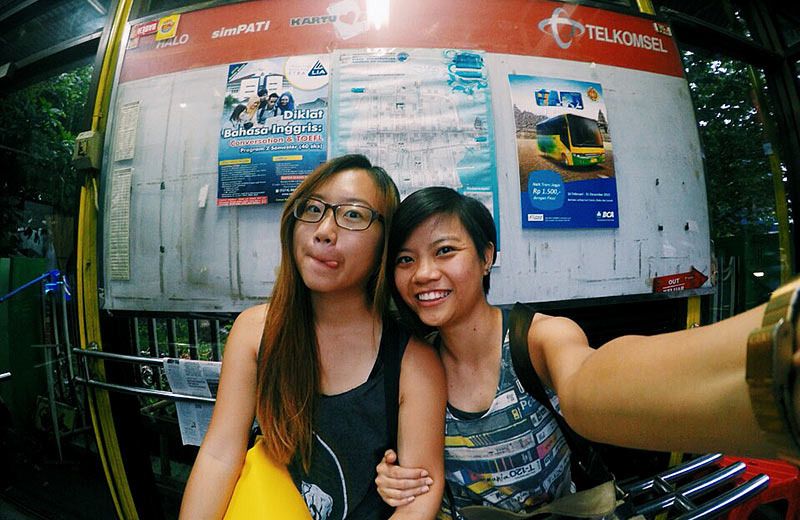 No pictures of their buses, but they look exactly like in the poster behind me.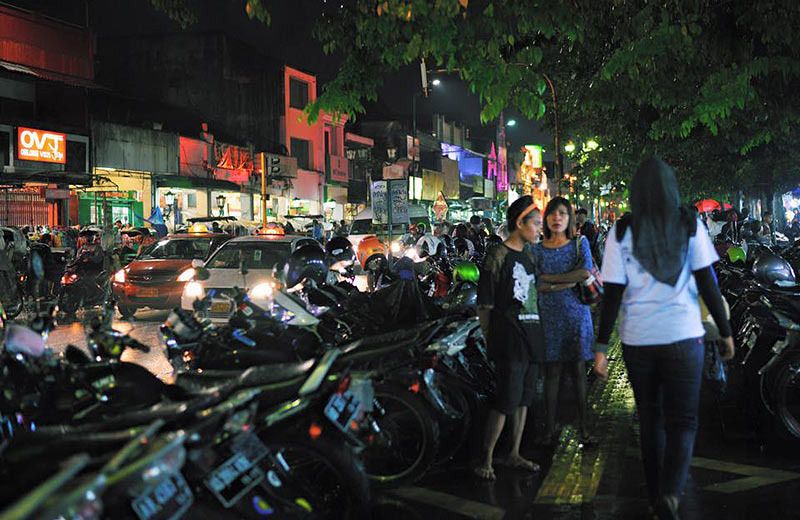 There we were, at Jalan Malioboro. It was their "must-go" in Yogya, but actually, nothing much one.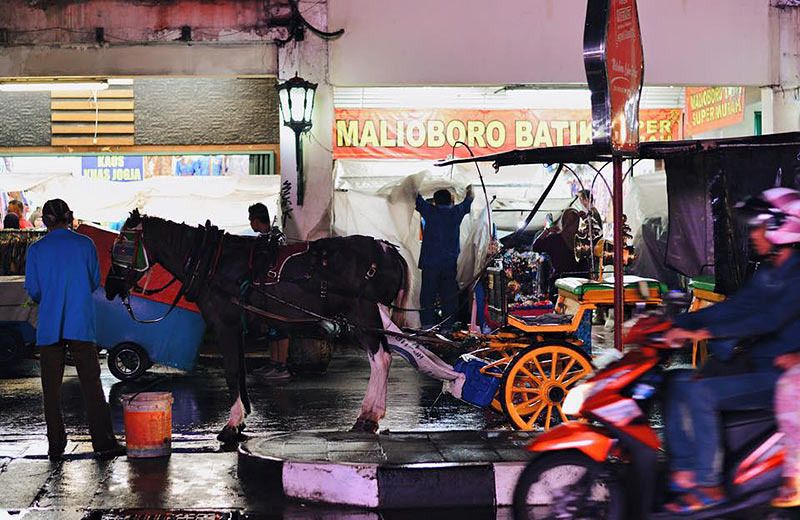 Most shops sell the same stuffs, plus we were not shopping people, so we got bored after a while.
Bought a bracelet each at the first few shops thinking we got a steal at 7000 rupiah. Then towards the end we saw each one selling for only 1,000 rupiah. What!?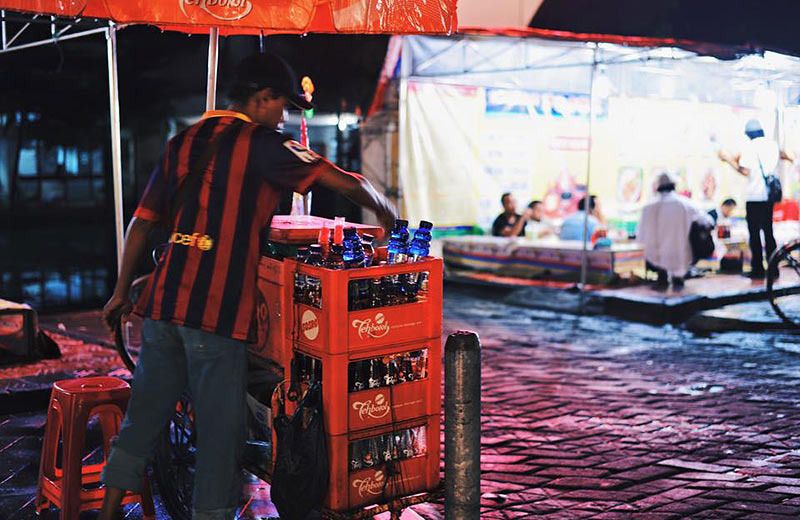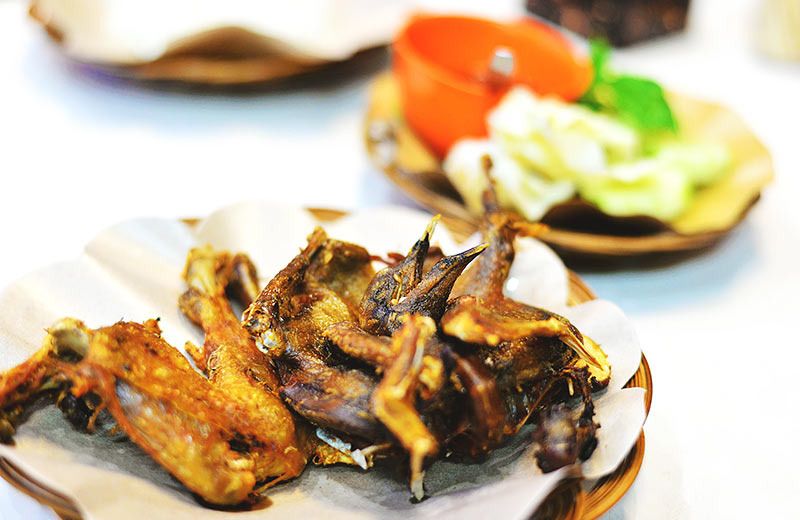 Settled dinner at a random restaurant which smelt good, and tried this fried pigeon.
Took a taxi back at night 'cos their buses operate till 9.30pm. Thought it was gonna cost a bomb looking at the traffic jams and the distance the driver took, but it turned out to be only about 30K over rupiah. Should have just cabbed all the way man!