My previous trip to Bali was uncursed because we didn't make it to Tanah Lot. Well, this time we did (but not on day 1 though).
Bali happened two days after I quit my full-time job so the timing was perfect for a getaway. It was also a trip that's almost fully sponsored by Loti because he can he wants to pamper me 🙂
We stayed in Bali Green Hills at Uluwatu area for the first two nights.
It's a loft villa and has a balcony overlooking some greens and sea. Niceeee.
We rented two scooters from them to explore the vicinity.
Lunch was at a random eatery called Warung Heboh. It's something like our 菜饭 / "point-point rice" (which sounds damn act cute btw) except that you get to scoop everything yourself, including the rice. Awesome 'cos you can control the portion and variety for a cheap price.
After filling some petrol, we started scootering to Uluwatu Temple. But due to a road closure, Loti and I got lost and ended up riding off-road as redirected by the locals. The damn narrow path was made of dry sand, stones and portholes with no light and I even fell once, so it was quite scary. My mind then was racing about what's gonna happen on our return journey when the sky turns dark.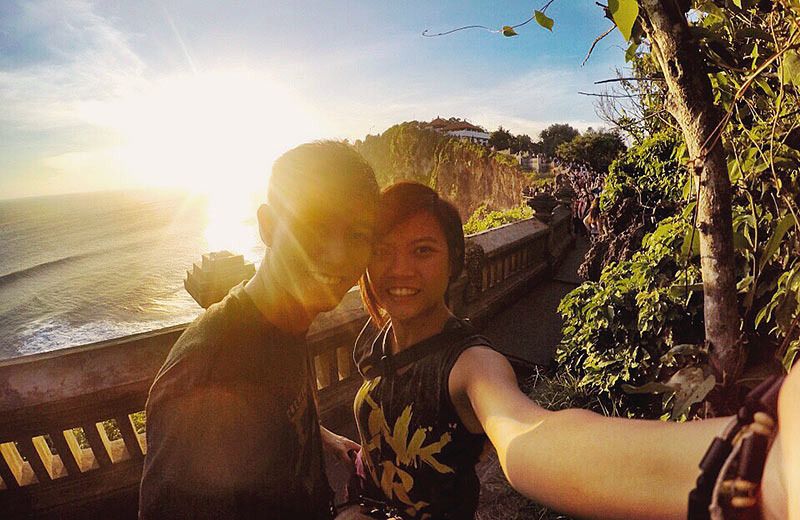 Made it in time to the temple!
We caught a sunset while watching the Kecak and Fire Dance.
It didn't turned out like how we expected. We were actually only interested in the fire part, which I thought would make up most of the performance.
But instead, it was a lot of chanting and dancing and there were so many characters in fugly looking costumes. I fell asleep halfway.
Oooo the fire woke me up.
Then it was over. Ended with the fugliest and scariest character throughout the show. Don't understand why people cheered for him when he went around taking selfies with the audience. If he came to me I'll be like GO AWAY.
The real challenge came after the show ended – riding back in the dark. However we somehow managed to make it back by travelling on the main road following other cars. Phew!