From Day 3 forward, every place we stay in Vietnam will be a one night stand affair.
The last morning market scene before leaving Ho Chi Minh City for Mui Ne.
Had our breakfast at Phở Quynh (24 hours :D) and we got to sit at ground floor and I concluded that we didn't get tok la.
Got our first sleeper bus with Sinh Tourist and it cost only 89K dong for a five and a half hour journey.
Sleeper bus in the day was just a bus to lie down and watch F.R.I.E.N.D.S.
Mui Ne is the first place ever in Vietnam and in my life that I was heading to without pre-booked accommodation. So exciting lol. I intended for this trip to be like that all the way but Loti is too safe for surprises.
Walked in to Mui Ne Hills Budget Hotel and got a private room for only 269K dong, 30% cheaper than booking online. (I sighed a huge sigh of relief inside me 'cos we had to walk up a mini hill to get there and if it turned out to be full Loti's gonna kill me.)
Also booked the 'Sunset Sand Dunes Jeep Tour' with the hotel for 121K dong. Loti and I had 30 minutes for lunch before the tour but we ended up having left with five minutes to gobble down a bowl of Pho and take away a burger due to the "relaq" mode of the food stall. And they kept running next door to buy ingredients for every dish by dish they cooked.
Travelling in a jeep was exciting – also my first time.
First stop was Fairy Stream. Didn't know this was part of the tour but it was quite nice. We walked on for almost half an hour to see some lame waterfall ('cos the ang mohs in our group wanted to and we can't move on without them anw) then had to walk another half hour back.
Some jetty stop for five minutes.
Then it was a long long road, with threatening skies.
When we arrived at the White Sand Dunes, I thought the jeep will bring us into it but no I was too naive. You could either walk up or rent an ATV / jeep.
ATV cost a hefty 300K dong for 20 minutes, but we managed to haggle to 30 minutes. I thought, what were the chances that we get to ride one in a desert looking place like that.
The moment we got on the ATV, some guy hopped on with us. Initially he was guiding us on the controls and stuff, the next thing we knew we were in the middle of the dunes with him, and that bugger wasn't getting off!
He wanted to take us to the top of the dunes one by one. We wanted to go ourselves but he said will flip.
But as soon as the bugger took over the ride, I could see why. He zua-ed super fast and chionged straight down the dunes (almost a 70 deg drop) and my heart also almost dropped out. Adrenaline rush max and I loved it!
Bugger took us to the top of the dunes and it was really pretty. Our skin hurt like shit up there as the strong wind blew all the fine sand on us.
Bugger also played photographer and snapped a lot of shots for us, but we only liked the candid ones.
ATV which we didn't get to ride ourselves.
A pity that the skies were full of rain clouds and the place didn't turned out as dessert looking as it should had.
Right after that jump shot, bugger asked us for tips. As Loti and I were discussing how much to give, he requested for a 100K dong in our face. Turn off much. We then pretended we only had 50K but another hidden 50K note fell out so we lan lan gave -.- His scheming move to corner us into giving tips before sending us back to the return point really ruined our entire day.
Next was the Red Sand Dunes, which in I thought was the prettier one in my mind. Still pretty, just that we had to walk really far to get this view. (Look at the sand in the background. Those were covered in footprints and rubbish.)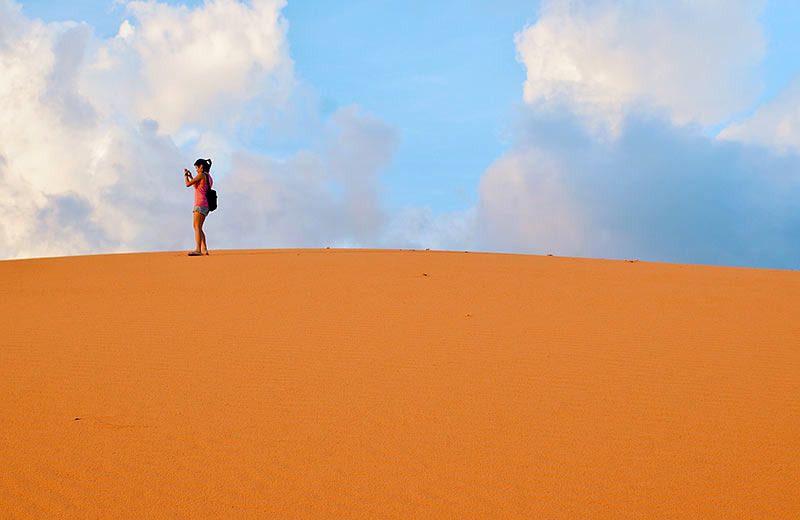 We found a nice spot to camp for sunset.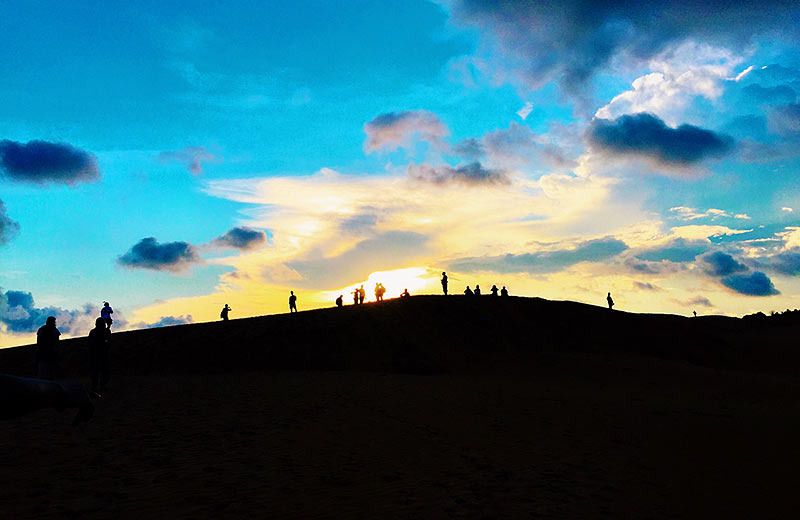 After that, the rain came pouring and sent everyone running helter-skelter down the dunes. We were entirely soaked when we got back to the jeep.
The rain didn't spared us all the way till the night. We got stuck on the streets and we couldn't explore the place. My seafood dinner by the beach idea had gone down the drain.
A fish hotpot however did save the day.
Mui Ne is a quiet town with seemingly little tourism except for their sand dunes, which was the only reason we went. However they weren't as wow as I imagined but I do blame it mostly on the weather.
From the Same Trip
Ho Chi Minh 1 / 2 + Mui Ne 3 + Dalat 4 + Hanoi 5 + Halong Bay 6 / 7 + Hanoi 8 + Ha Giang 9 / 10 / 11 + Sapa 12 / 13 / 14 + Luang Prabang 15 / 16 / 17 + Vang Vieng 18 / 19 + Nong Khai 20 + Bangkok 21 / 22 + Video