Left Luang Prabang for Vang Vieng – a place where I'm most excited about 'cos it was the first province I learnt about Laos.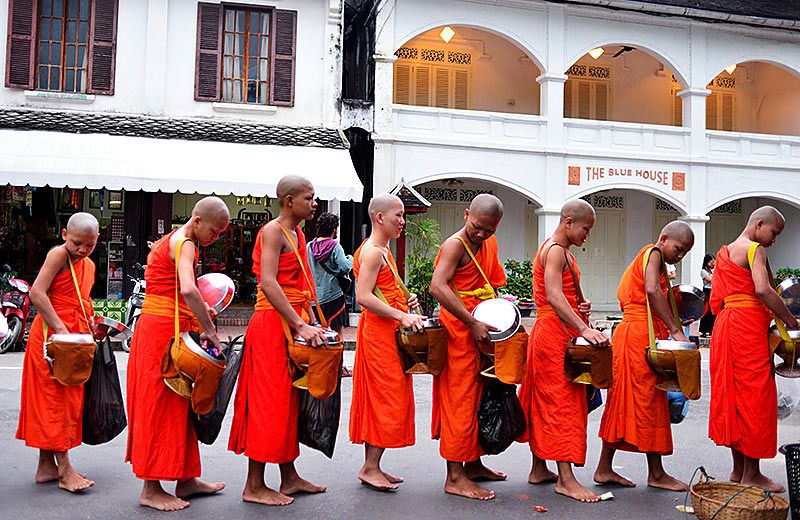 Woke up at 5am to catch the alms giving session before leaving. We were too early though as we stayed near the temples and we are fast preparers. 6am IMO would be just nice when the skies turn bright and the monks make their rounds.

Minibus picked me and Loti up at 7.30am and it flew to Vang Vieng within 3.5 hours. Pretty fast. And I managed to grab the tickets at 100K kip each. Yay shaved 20K kip off the usual price. Cheap thrills muahaha!
We alighted at Vang Vieng's town and started hunting for accommodation. Past by Inthira Hotel which Loti shortlisted as one his choices during research and fate decided for us – US$32 per night.
Dropped our bags and started planning our itinerary on the spot. Rented a lousy China motorbike after lunch called 'Hong Xin Wuve' (an obvious imitation of Honda Wave) for 70K kip and regretted – the bike trembled vigourously and the brakes screeched like a bitch, but it was too late.
Loti and I wanted to head to the famous Blue Lagoon. However there are a lot of imposter ones so we had to be careful. Search 'Tham Poukham' on Google Maps and you are safe. It's just that Google doesn't detect this small little road that the locals use to cut through.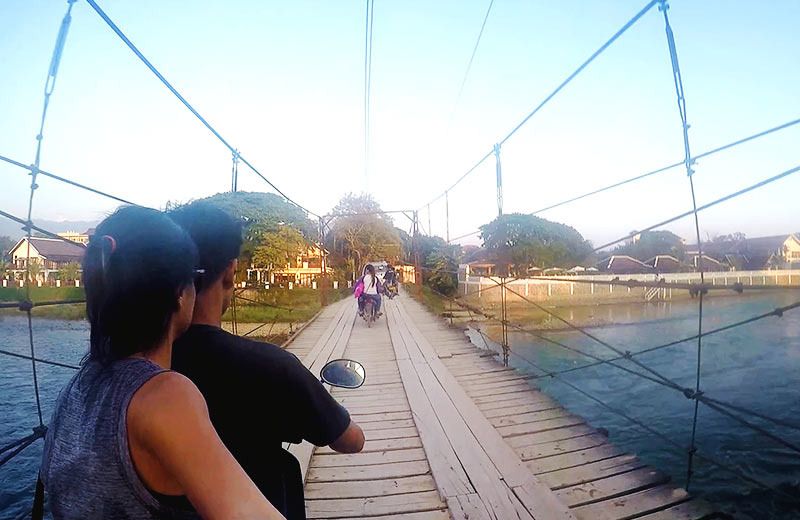 Ask around and when you find the only bridge where you have to pay a toll (of 10K kips for motorbikes), you are on the right track. Here's a good read if you plan to travel there with your own transportation.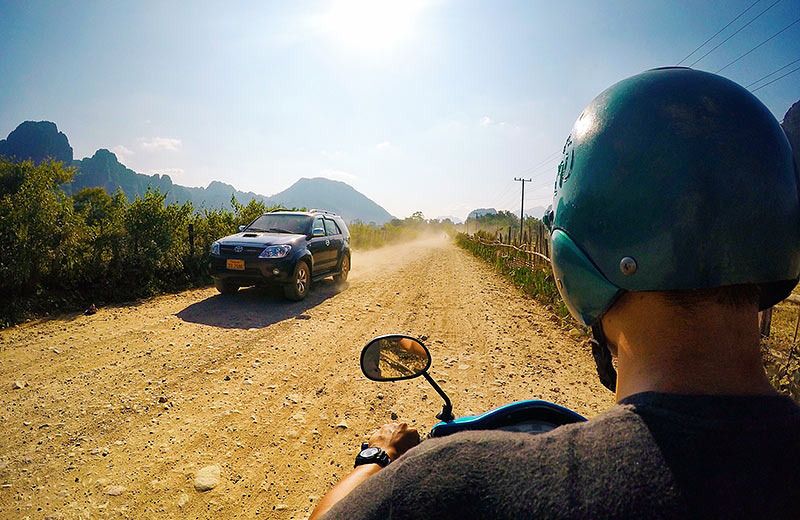 7km of dirt road.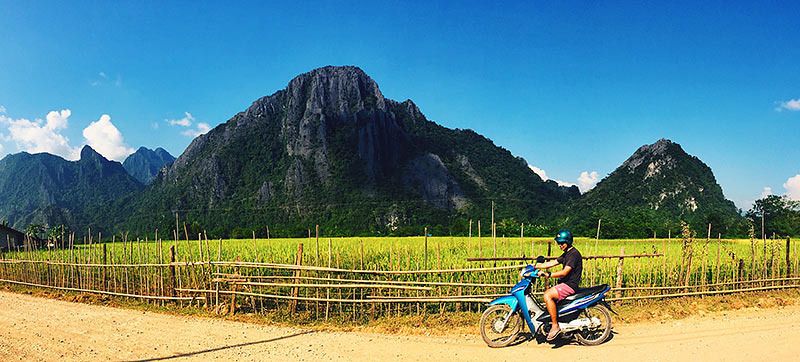 The sceneries were so beauty.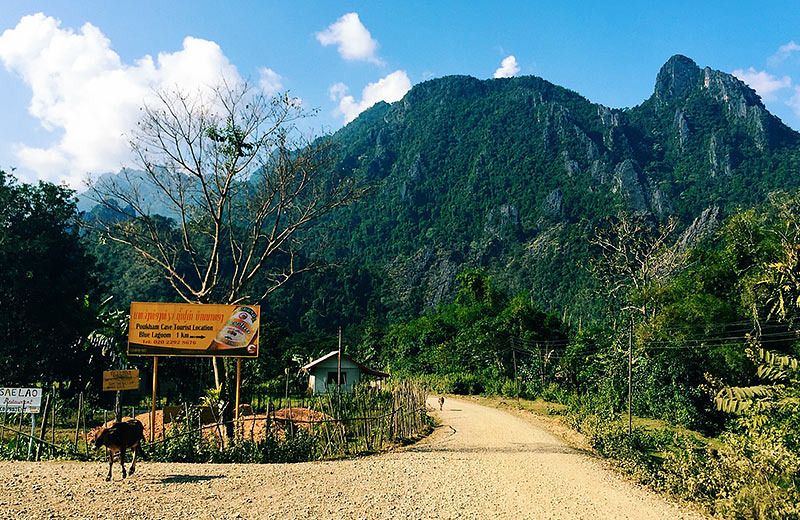 Sign of validation. (There were lots of scam signs along the way.)
The sun was scorching and we were dying to get into the blue waters!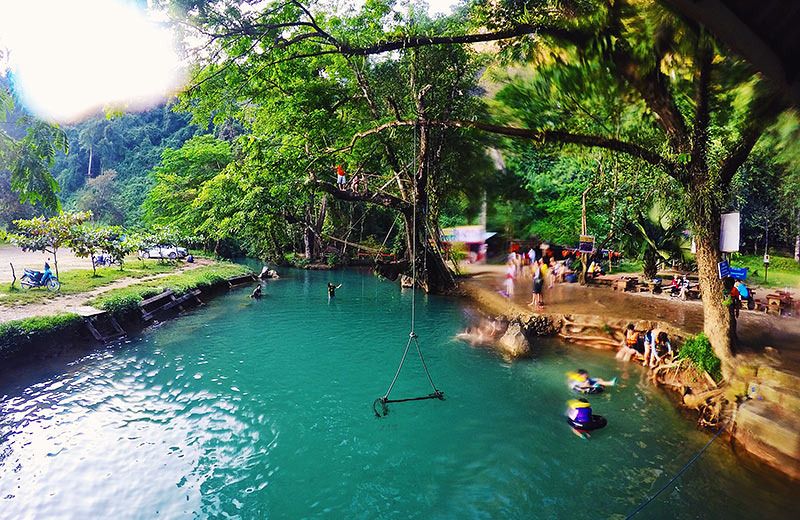 It was such a relief when we arrived at the right Blue Lagoon. It was very crowded and touristy though.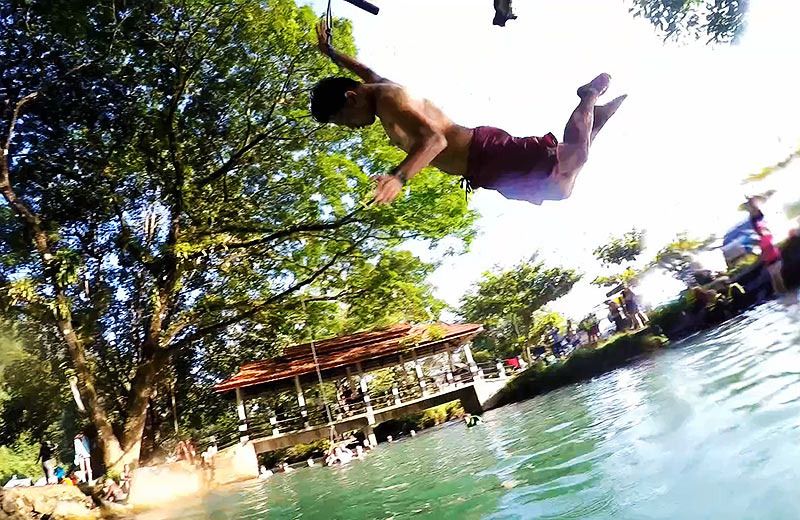 Lots of people were having their turns in the swing..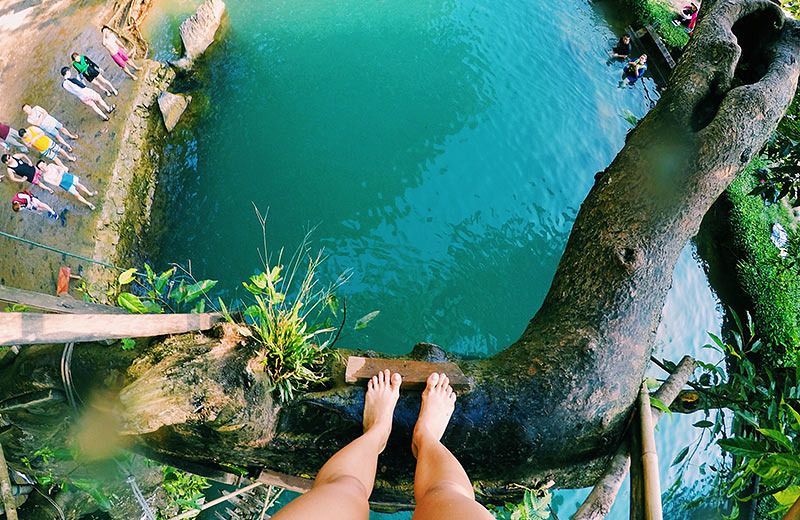 ..and jumping off the tree, which was quite bloody high.
Me inclusive.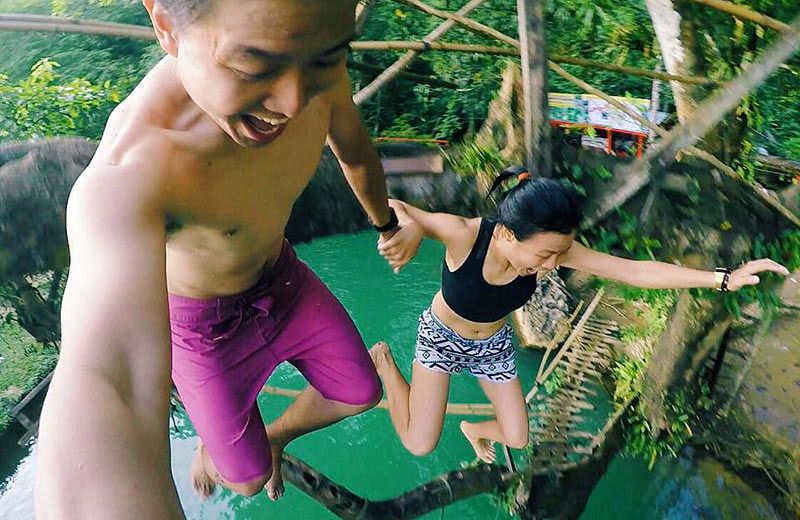 And then, together!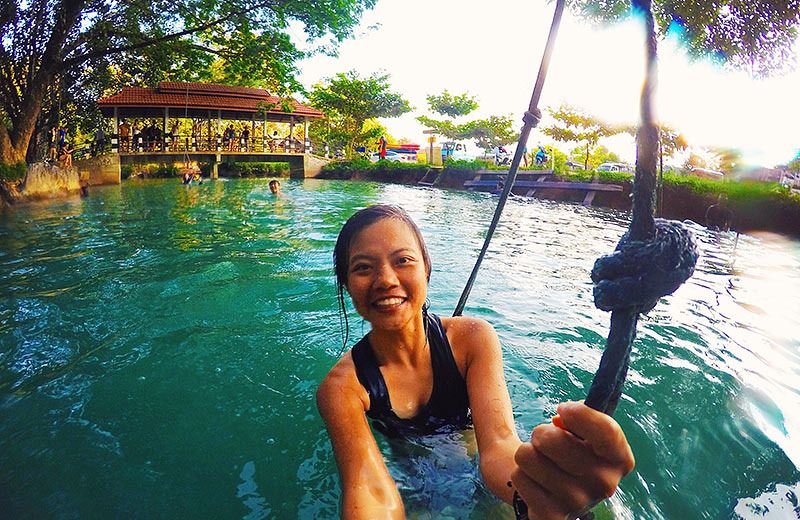 We spent about one and half hours just dipping in the human body bath till we were trembling in coldness.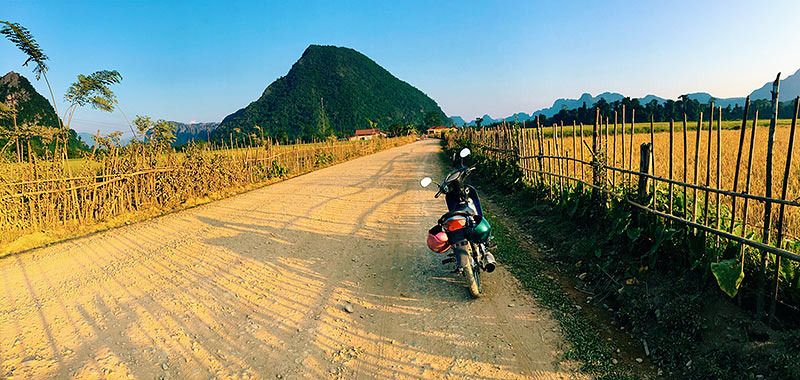 Then it was another beautiful ride back in the sunset.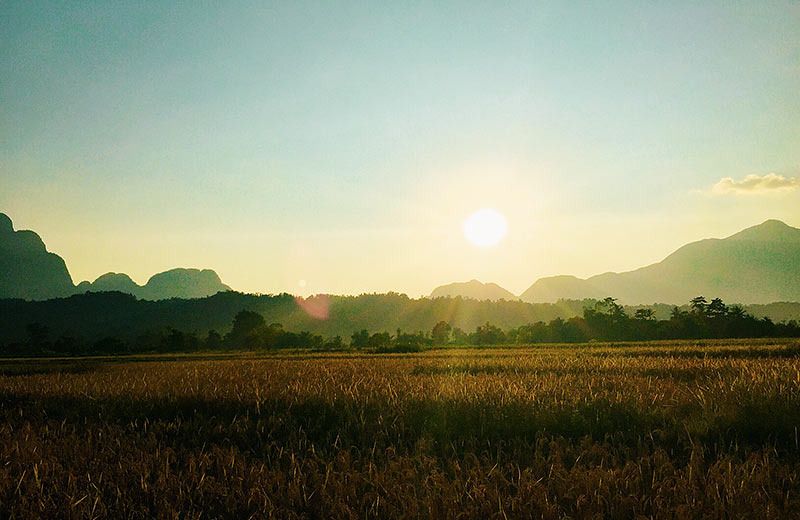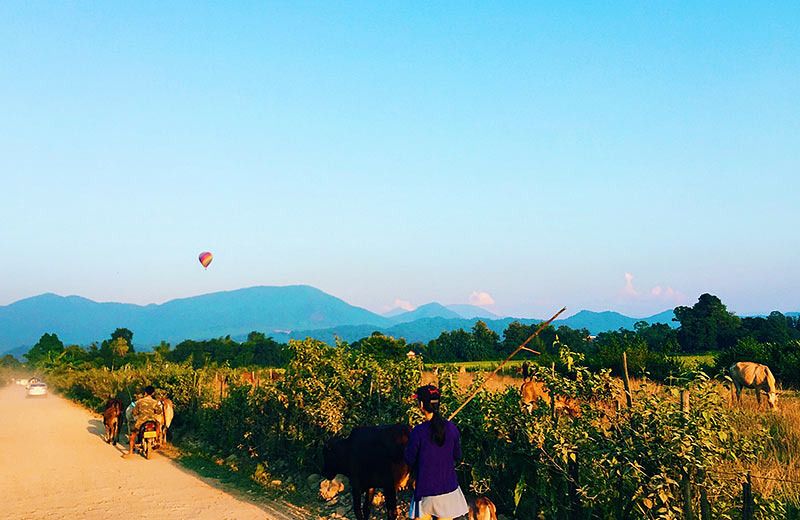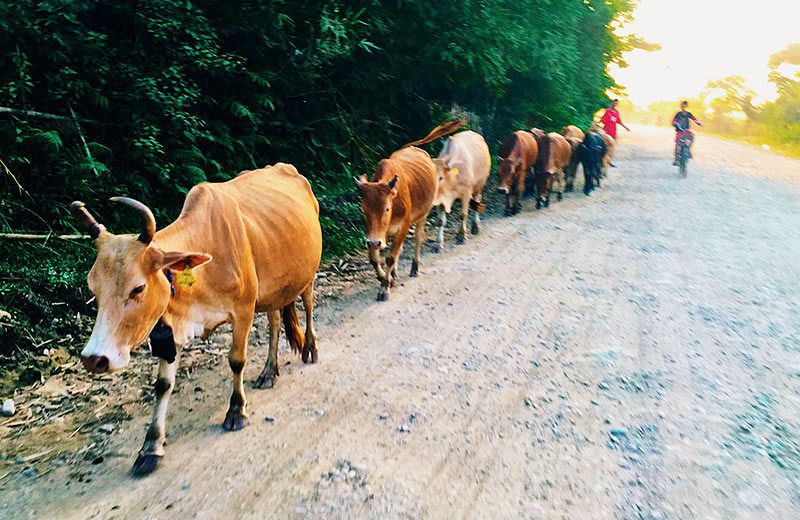 Later at night while we were looking for a dinner place, the motorbike key got twisted, and when we tried to twist it back, it broke, IN THE KEY SLOT. Like WTF?
The engine was off and the handlebar was locked. We couldn't shift the bike. While we were like OMFGing over it, a local came over and helped us by pushing back the remaining half of the key and switching on the engine gently. Loti and I were amazed. I think they should be pretty used to these situations.
We thanked him and went off for dinner at Luang Prabang Bakery. I guess we miss Luang Prabang already LOL.
From the Same Trip
Ho Chi Minh 1 / 2 + Mui Ne 3 + Dalat 4 + Hanoi 5 + Halong Bay 6 / 7 + Hanoi 8 + Ha Giang 9 / 10 / 11 + Sapa 12 / 13 / 14 + Luang Prabang 15 / 16 / 17 + Vang Vieng 18 / 19 + Nong Khai 20 + Bangkok 21 / 22 + Video