An adventurous day up in the air and down in the river.
It started off early with much anticipation as we woke up at 5am and waited to be picked up for a hot air balloon sunrise tour! Loti had been dreaming about one for a long time and it was happening at last.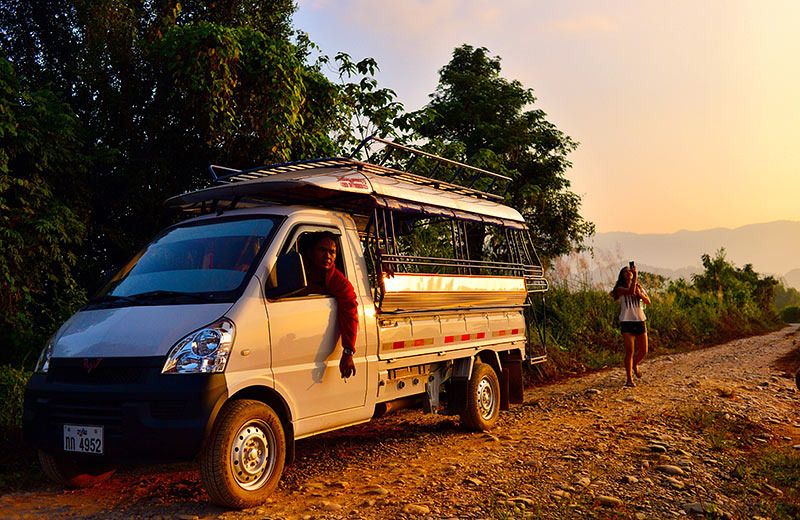 It was quite a crowd and by the time we finish picking everyone up and arrived at the taking off place, the skies were already turning bright. (We didn't signed up for sunrise to be caught on the ground yo!)
Everyone got increasingly impatient as the crew took their own sweet time to set up, but it was still nice to watch haha.
Wooo! Up we went!
It felt so surreal. The balloon rose slowly and gracefully, hovering over a very pretty Vang Vieng.
And then sunrise! 😀 We still managed to catch the sun peeking out of the mountains in the air.
The other balloon.
We could not get enough of the gorgeous view.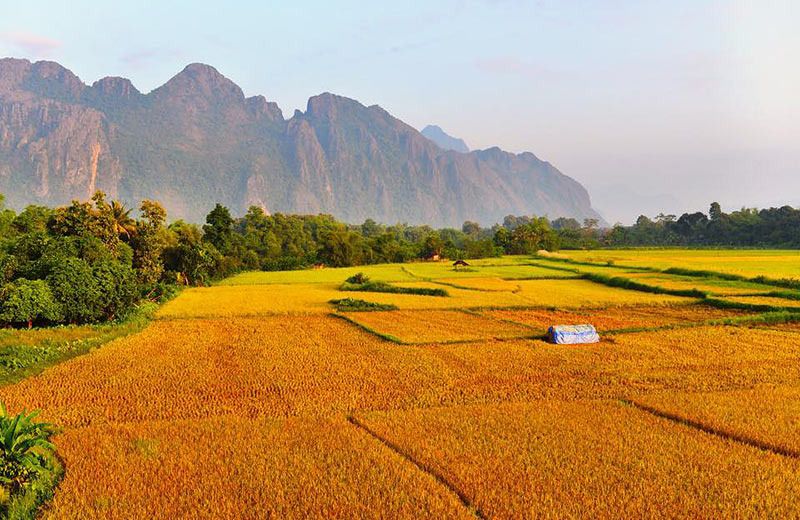 When it was time to land, the pilot skillfully maneuvered us very lowly over a plot of land brushing across a tree.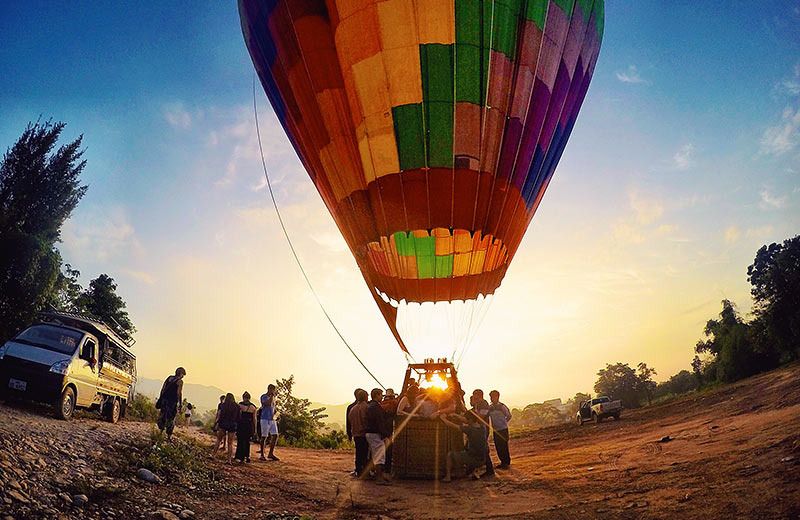 US$80 per pax for a 45 minute ride was well worth it.
Returned to the hotel to claim our free breakfast and flopped back to bed after, sleeping past noon.
We then returned our bike with the broken key hoping for the best and HENG the guy didn't even bother to check the China bike for its condition. (Maybe that's why so cui.)
Quickly escaped to the river tubing shop which is along the main street with the many bars. There are only two shops doing the business on alternate days. 55K kip for the activity and 60K kip deposit for tube rental, and 20K kip fine if you return after 6pm.
Our hand drawn clubbing chop.
A one way tuk tuk ride was provided to the first river bar. So basically tubing in Vang Vieng is very much bar hopping down the river.
We arrived and felt out of place. We were the only Asians and everyone else was ang mohs.
We wanted to leave the bar after Loti downed two beers, but we got held back and were asked to join a game at 2.30pm. I wanted to people watch so we stayed.
Everyone gathered in a circle and played hot potatoes by throwing water balloons and trying to make them pop at one another. The winning gender will enjoy 50% off all drinks at the bar.
The start of the tubing!
Loti ignoring me as I crashed pathetically behind.
Second bar was pretty boring.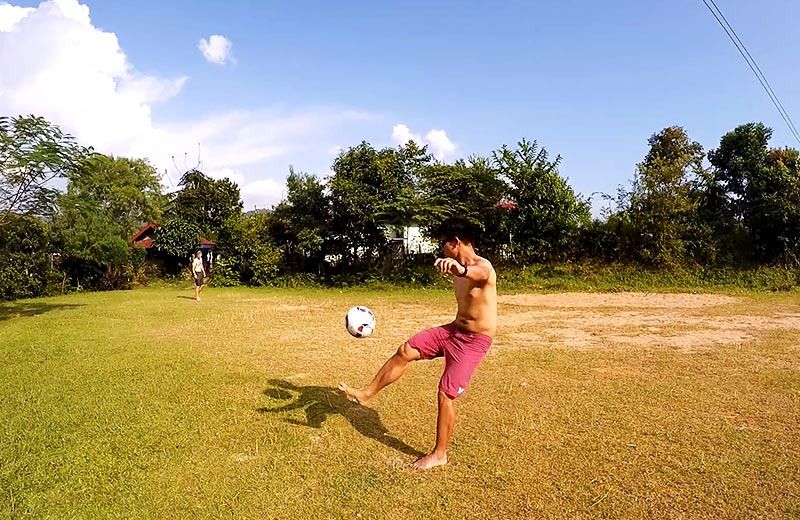 No games just some football for you to play. Talked to a staff there and we later found out that there was actually an unwritten "schedule" for bar hopping everyday where everyone will go together.
1st bar: 1pm – 3pm
2nd bar: 3pm – 4pm
3rd bar: 5pm – 6pm
4th bar: 6pm – 7pm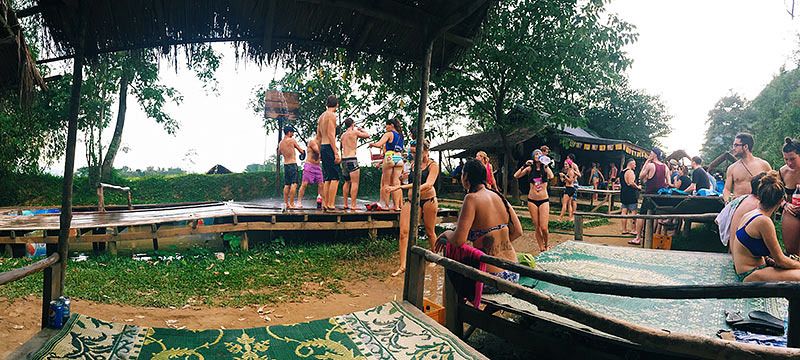 The third bar was our favourite.
There was water basketball, boxing, ping pong, etc.
Loti was crazily happy in his cheap booze land.
I was just dying to eat. We didn't had anything since breakfast and I swear I almost fainted.
Then we left and headed down to the fourth and last bar. But as we drifted down Loti said it didn't look happening so we decided to pass and follow the kayakers.
I was admiring the sceneries, greens and cows and two bridges.
Then suddenly something occurred to me. The last bar is the final stop where everyone will gather and go back to town together. JENG JENG! I looked back, no tubers were with us. Looked front and all the kayakers were far away by now. We didn't have control over our direction as we were just going along with the flow of Nam Song River, which is damn long btw.
There were some Koreans passing by in tourist sampans and we waved for help and they waved back smiling, thinking we were saying hello -.- The skies were getting dark and I don't know where the hell were we. Shit just got real. While Loti was still in his half drunk state, I entered panic mode, put the tubes over us and paddled with all out might to the shore.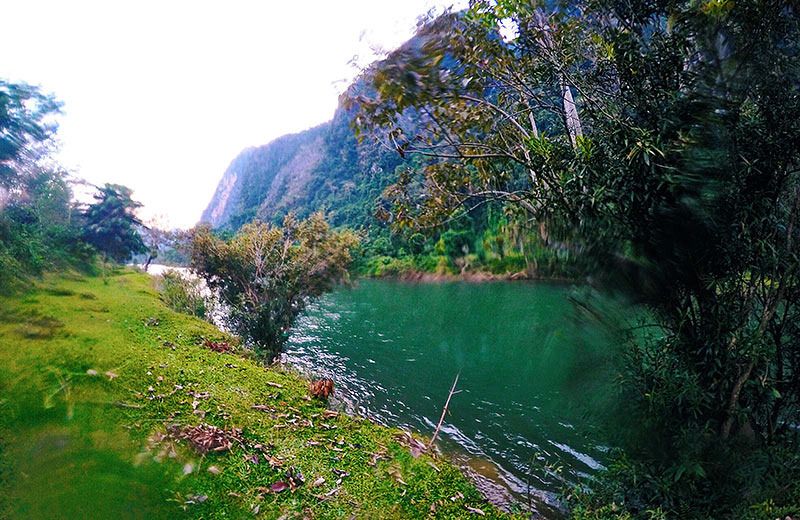 Managed to grab hold of that tree and pulled ourselves up here.
Ended up at a land with lots of abandoned houses and cow dung.
With Loti's lame leg we tried to walk back in the direction of the last bad'r where we could still hear some music.
Was so glad when we finally saw human signs of life and a guy asked if we wanted tuk tuk. He didn't looked very legit and asked for 20000 kip upfront but at that point it was whatever as long as we didn't have to spend a night out in the woods.
Got back safely to the tubing centre on the dot at 6pm and didn't get fined for the late charge. Not bad.
Was so glad that we were back to civilisation. Had to be a maid and rinse all our wet and soiled stuff while trying to survive followed by the best hot water bath.
Ended our night with dinner at our hotel – The Kitchen. It was Laos cuisine and everything was just so good.
No doubt that Vang Vieng is much more run down than Luang Prabang, but it has beauty in its own way.
From the Same Trip
Ho Chi Minh 1 / 2 + Mui Ne 3 + Dalat 4 + Hanoi 5 + Halong Bay 6 / 7 + Hanoi 8 + Ha Giang 9 / 10 / 11 + Sapa 12 / 13 / 14 + Luang Prabang 15 / 16 / 17 + Vang Vieng 18 / 19 + Nong Khai 20 + Bangkok 21 / 22 + Video