We arrived at Bangkok Mochit bus terminal at 5am, one hour earlier than expected.
Grabbed a taxi to Khao San Road without knowing where to stay yet. (When we had wifi the previous night, Loti and I decided to watch dramas and not do any research. Priorities hahaha.)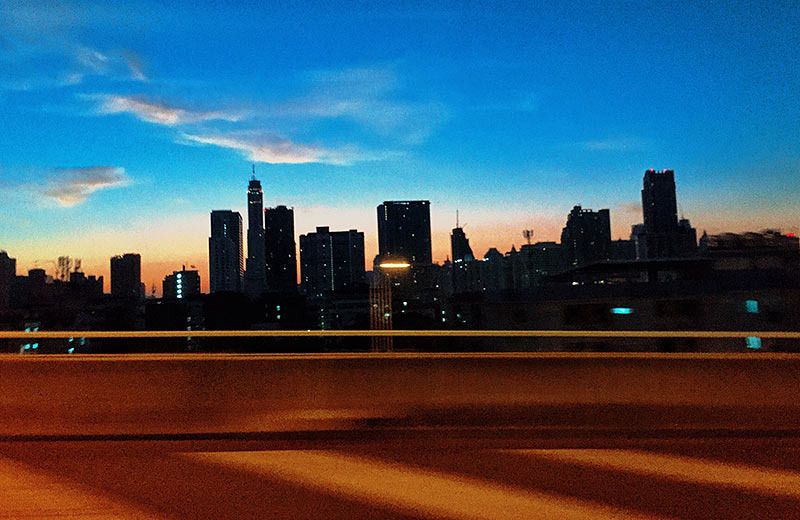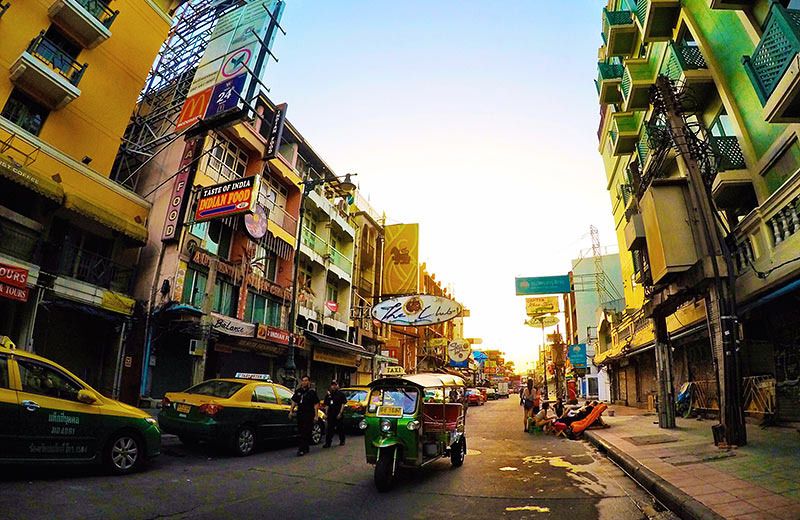 Watched Bangkok City wake up.
Forced fed ourselves with Mac breakfast in order to use their wifi to search for accommodation.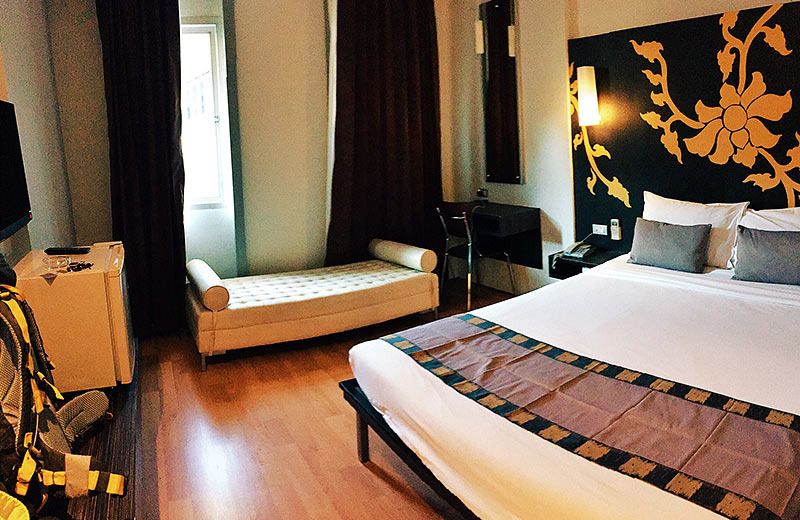 Found Swana Hotel which looked pretty good online but I didn't liked it. First, the location was quite far off – 1.3km away from Khao San (which is not funny for Loti's broken foot). Then the staff had some attitude problem. Third, we had to pay 500 baht extra for early check-in on top of the 850 baht room charge. I thought that the 500 baht was ridiculous just to buy four hours of rest but Loti was crippled and tired so he won. Fourth, the wifi sucked – only one person could use it at one time. (Btw it uses the additional login page which I hate).
Ok enough of complaints. We hit the streets after a morning KO.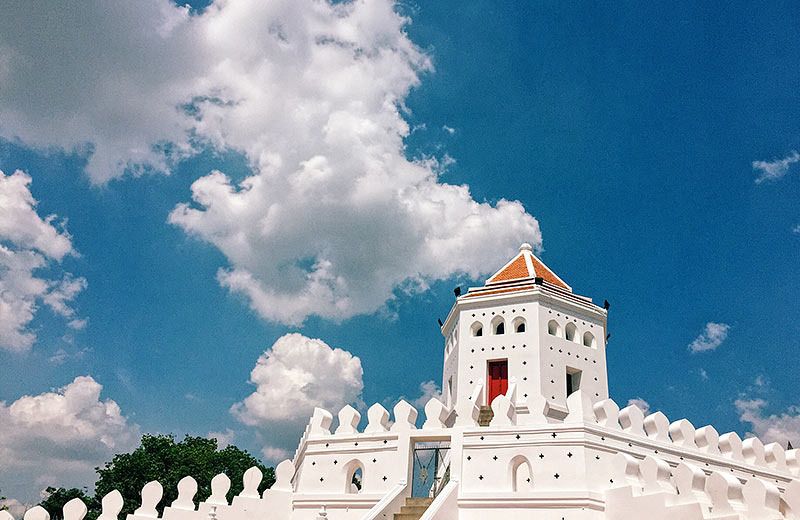 Went to Phra Athit to check out a stretch of hipster cafes.
We chose one with a cute girl who posed for us lol.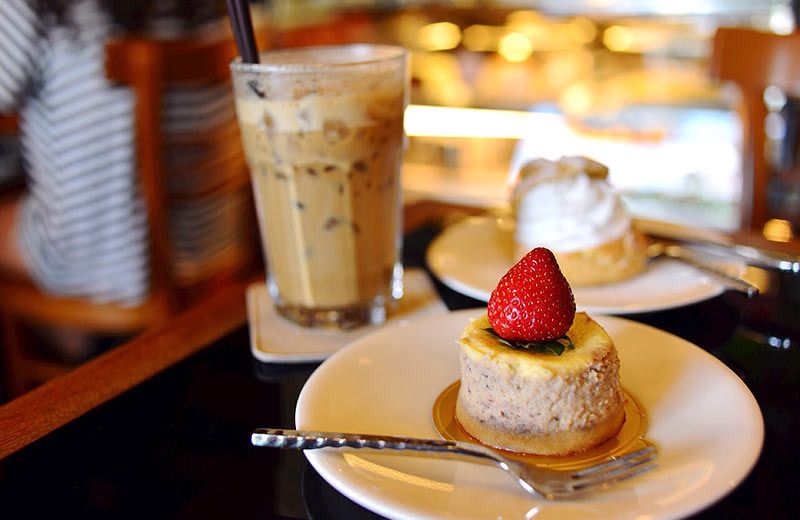 Ann's Sweet – validated by Le Cordon Bleu.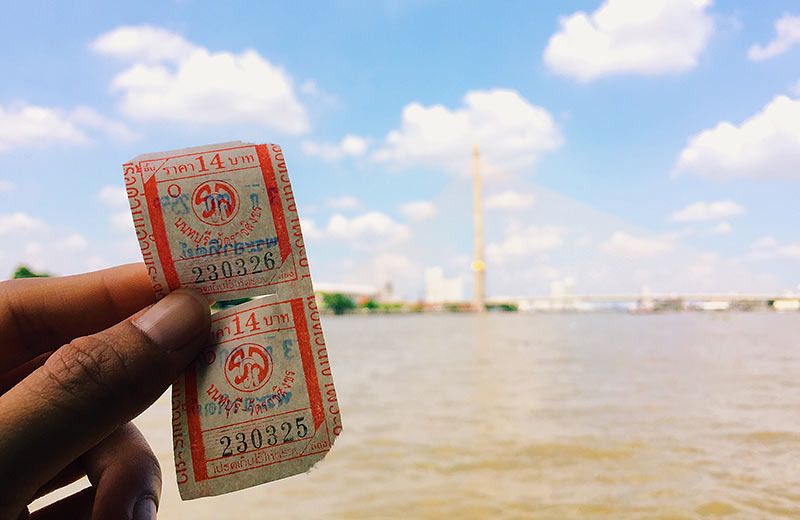 Took the Chao Phraya Express Boat wanting to go to Wang Lang Market, but we were at the wrong side so we had to alight at Tha Chang pier to transfer.
That was when we stumbled upon a beautiful looking tourist make believe town – Tha Maharaj hahah. We decided to stay to explore.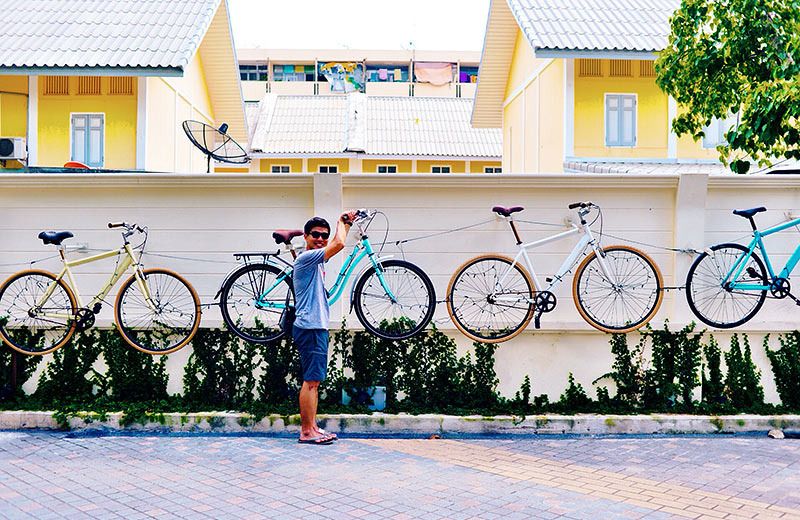 They had some bike market going on.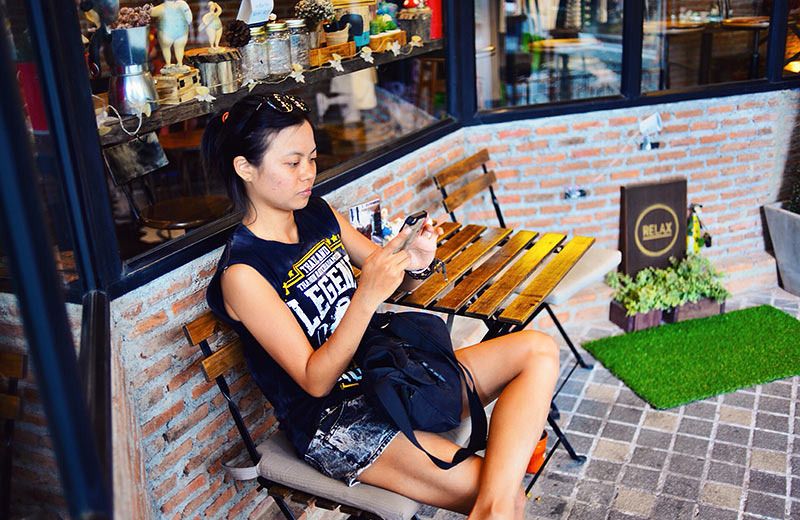 Chilled at Favour Cafe.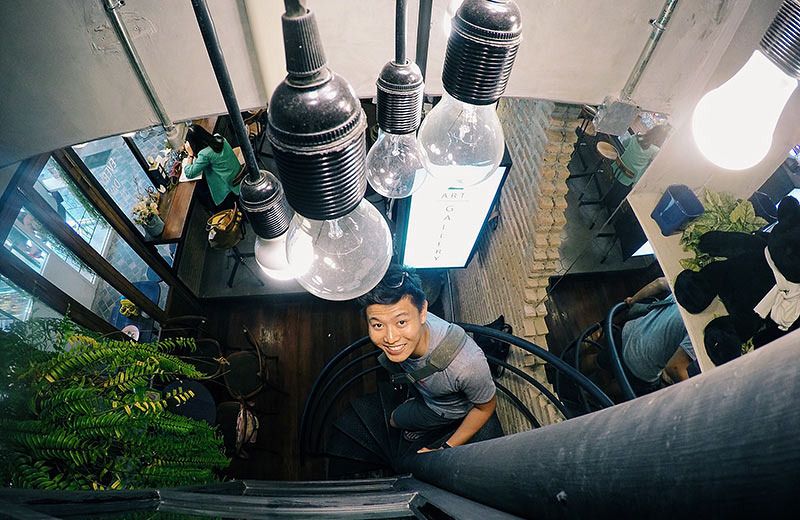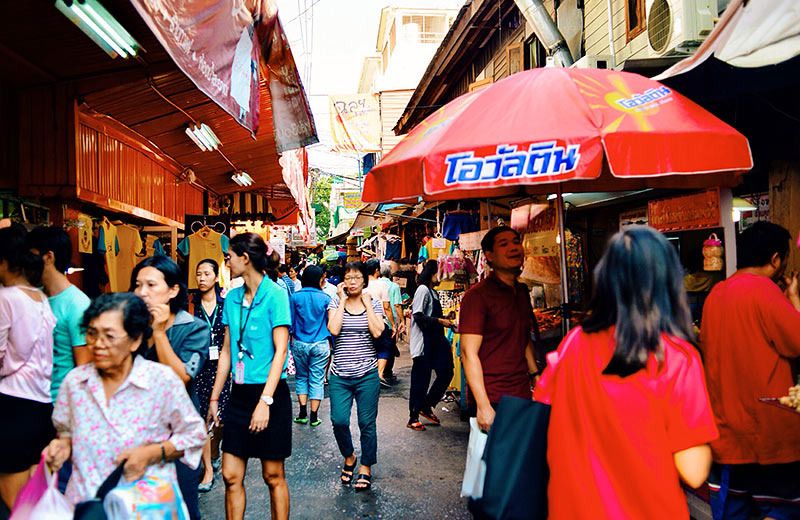 Then we took a 3 baht ferry to drift to Wang Lang Market opposite.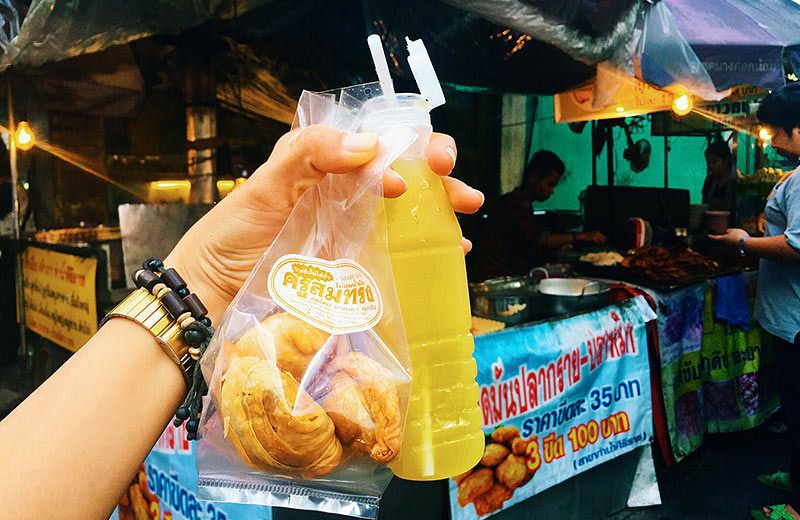 There were lots of yummy looking food but by that time, our stomachs only had space for these.
Chinatown was next, also via the river.
We accidentally walked through rows and rows of wholesale shops we never knew existed – textiles, accessories, etc. I believe that there should be a lot of hidden finds if we had the luxury of time.
Coconut ice cream that pwned the Chatuchak's one big time.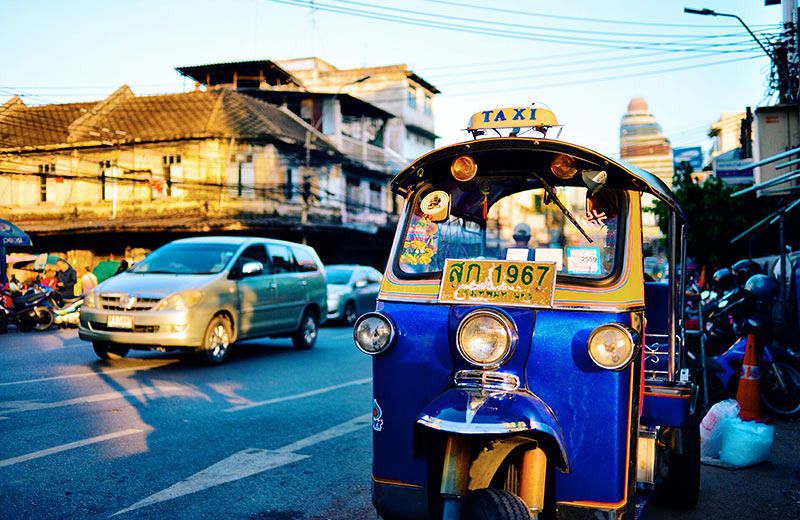 A very Chinatown golden hour.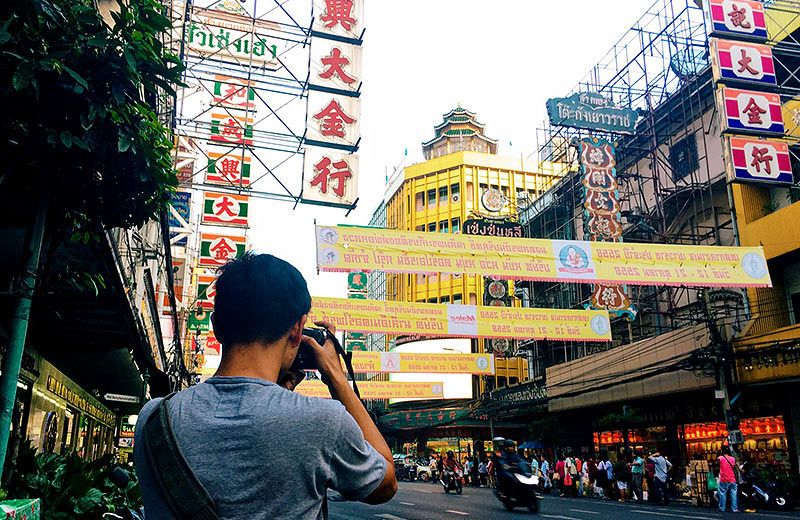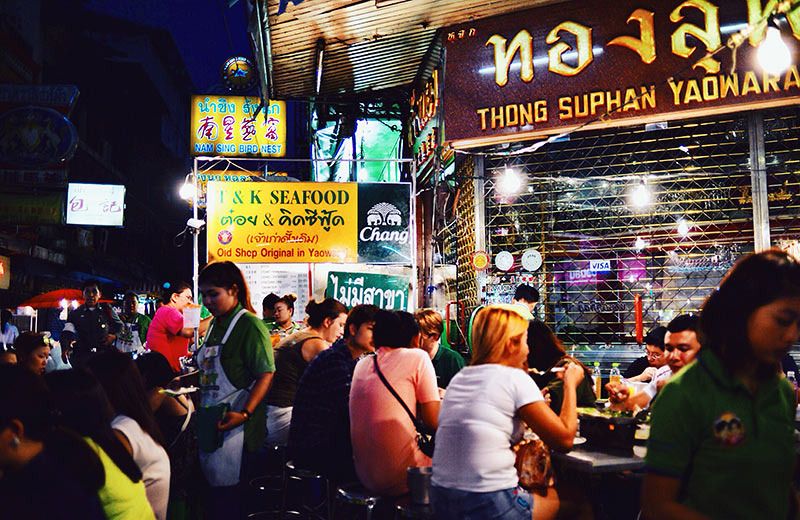 Loti brought me T & K Seafood which was like super popular. We were their second customers as we were early, but within fifteen minutes the entire place was filled and a queue started forming already.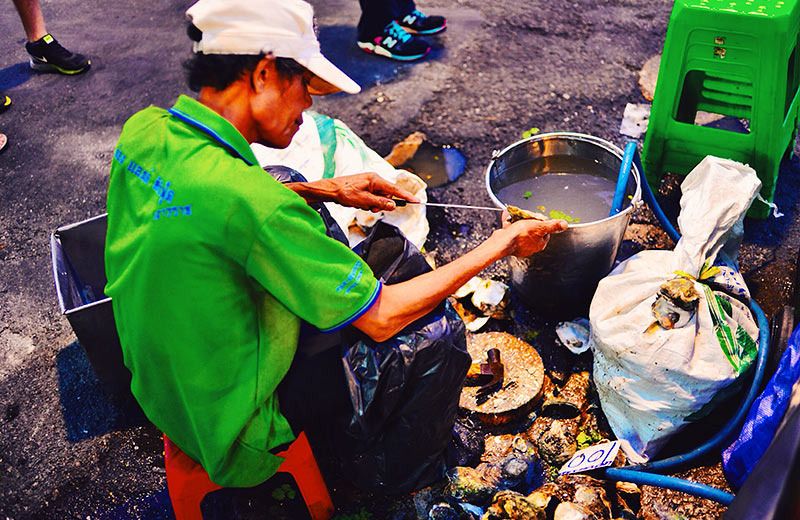 Slurped up their fresh oysters served with lime, shallots, chilli and OMG, I regretted not ordering a dozen for myself hahaha.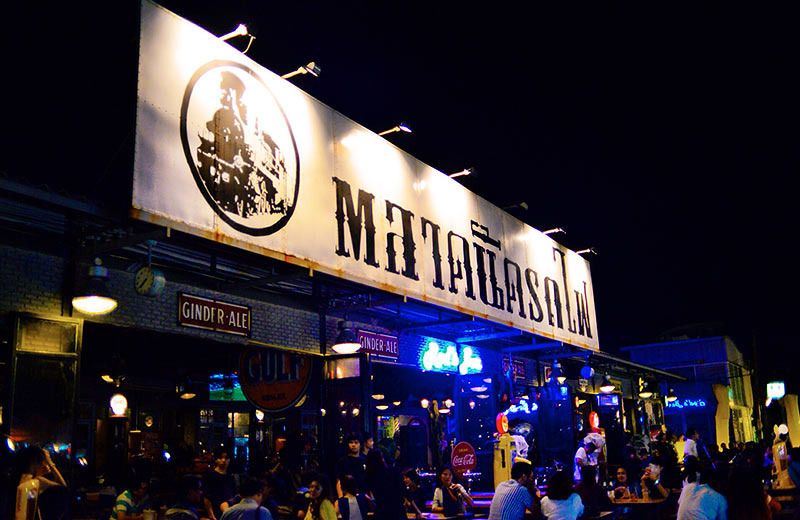 Trained to Ratchada Train Market.
It was pretty happening like Talad Rot Fai, only smaller. Food and shopping was cheap and I managed to get some pieces of clothing there.
Loti found a barber who looked quite zai and he gave it a shot. He liked it.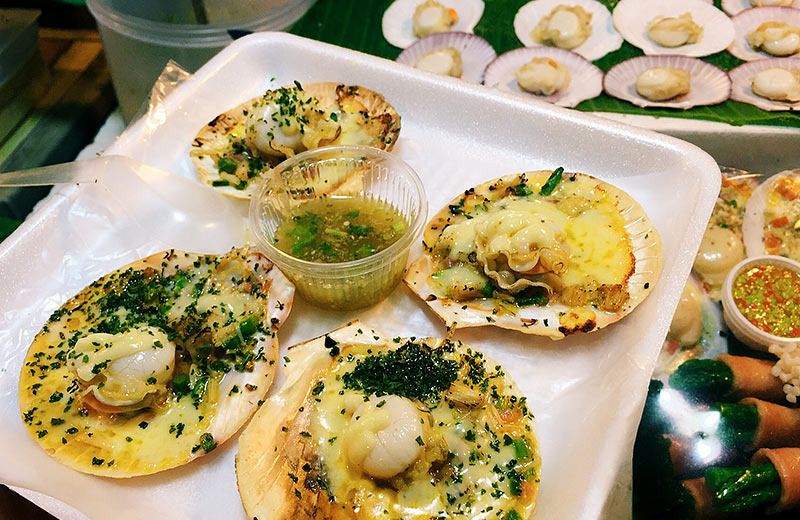 Getting a taxi after was a bitch though. We queued up at their imaginary taxi stand for almost half an hour, then when we finally got on a taxi, the driver decided to turn off his meter upon hearing our location. WTF? Loti and I tried to nego his stupid price but didn't succeed so we lan lan got off. Walked further up and after a few rejections, one kind soul took us. Khao San seemed like a pretty inaccessible area to stay in.
From the Same Trip
Ho Chi Minh 1 / 2 + Mui Ne 3 + Dalat 4 + Hanoi 5 + Halong Bay 6 / 7 + Hanoi 8 + Ha Giang 9 / 10 / 11 + Sapa 12 / 13 / 14 + Luang Prabang 15 / 16 / 17 + Vang Vieng 18 / 19 + Nong Khai 20 + Bangkok 21 / 22 + Video