I'm getting hitched, in less than 20 days' time.
Three years ago when Loti proposed, everyone kept asking me when is my wedding etc, until they gave up and forgot about it. Now, it's happening.
Due to me and Loti's keep-everything-simple attitude, we seem like one of the most bo chup couples. But honestly, simple simple also got a lot headaches one. And much as we want to escape from all the traditions, there are some wars we cannot win, so follow lorrr. No wonder people always say plan wedding sure fight.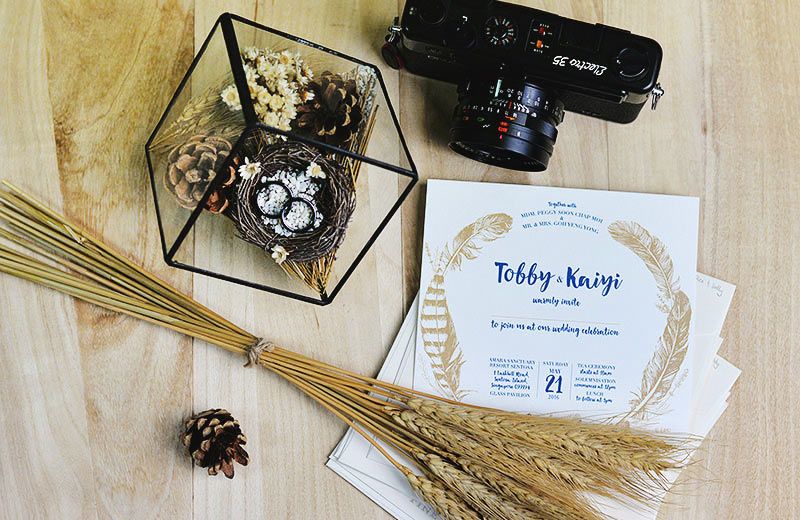 However within lies some fun moments like designing our own wedding invites, Loti decorating the terrarium to be our ring holder, DIY-ing my hand bouquet for the first time, and so on.
Most girls (me inclusive), while growing up, would fantasize about their dream wedding – especially when watching movies or looking at older people you know get married. A decade ago, I'd think that I'll hold a beach wedding, with my imaginary groom and myself all dressed in white; screen a cheesy video montage and make all my guests laugh; have my groom sing a song for me; take princessy outdoors and studio pre-wedding photos wearing a few killer gowns (LOL).
Now that I'm planning it actually, I know it'll turn out very different. No beach no montage no song no pre-wed shoots no killer gowns, only gown. I almost even chose one that might cost less than some of my guests hahaha, which I'll talk more about it in the next post.
Two more weekends to go and I still haven't gone for my trial make up, gown fitting, and gather all my bridesmaids to decide on gate crashing activities :\ Super lastminute.com wahahaha good luck to me!